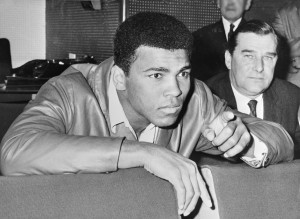 According to the family of the late champ Muhammad Ali, the details for his funeral and burial services have been planned for several years.
Family spokesman Bob Gunnell said this week, "This began with the Champ a decade ago," speaking about the meeting where Ali detailed how he wanted to be laid to rest and ultimately celebrated. "As he convened the meeting, he said, 'This is what I would like to see, this is the type of program that I would like to see, that is inclusive of everyone, where we give as many people an opportunity that want to pay their respects to me.'"
The greatest of all time died Friday at 74-years-old after suffering for years with Parkinson's Disease, a condition that many believe was exacerbated in part due to his long and fierce fighting career. The city of Louisville, Kentucky is expecting tens of thousands of mourners to line the streets this Friday in anticipation of Ali's life.
Here's the planned schedule of events:
Thursday, June 9
Jenazah prayer program: Imam Zaid Shakir will lead a Muslim prayer service Thursday at the Louisville's Freedom Hall, where Ali fought his last Louisville fight in 1961. The Imam said in a statement, "To be properly prepared for burial, prayed over and then buried is a right owed to every single Muslim." People of all faiths are welcome.
Friday, June 10
9 a.m. ET: The procession through Louisville will begin, stopping by Ali's childhood home and the street named after him.
Funeral procession: 500 Louisville Metro Police Department officers will be providing security for Muhammad Ali's procession through the city. "This is truly a once-in-a-lifetime opportunity, so we'll do things a little bit different. We'll adjust as we go," said department Major Kelly Jones.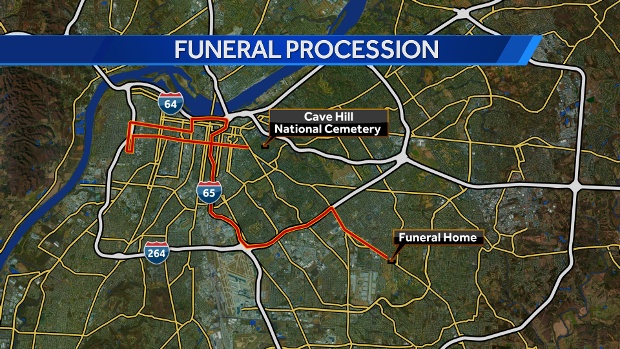 According to the Ali Center: "The procession will travel northbound on Bardstown Road, westbound on the Watterson Expressway and then north on I-65 to westbound I-64 (exiting 9th Street ramp). Then traveling west on Muhammad Ali Blvd. to 34th Street, left on 34th Street to Broadway, making a left on Broadway and then traveling to Cave Hill Cemetery. The route includes locations that were historically important to Muhammad."
2 p.m. ET: Public interfaith memorial service at the KFC Yum! Center begins. Announced special guests will include former President Bill Clinton, Billy Crystal, Bryant Gumbel, Turkish President Recep Tayyip Erdogan, and Jordan's King Abdullah II. Will Smith, who famously portrayed the boxing champ in the Oscar-nominated film "Ali", will serve as a pallbearer.
Check back with Mediaite for more details on Friday's memorial service, which will be live streamed online.
—
[images via Wikipedia Commons and WLKY]
Have a tip we should know? tips@mediaite.com