Developing: FBI Raids Homes In Mass. And New York In Times Sq. Bomb Probe (VIDEO)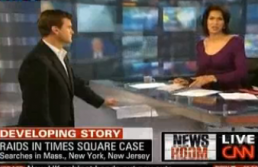 Can we officially consider the Times Sq. bomber 'lone wolf' theory completely dead? The FBI conducted raids this morning near Boston and out on Long Island in connection with the attempted car bombing of Times Sq. earlier this month. The FBI reportedly took two people into custody. According to CNN the raids are a direct result of information obtained from Faisal Shahzad, who has still not appeared in court to be arraigned on charges — he has waived that right and "is still talking." CNN also says these raids are "definitely involved in the financing of operations." Video of the CNN segment below. And this from the New York Times:
Federal authorities on Thursday raided several locations in the Northeast and took two people into custody as part of an investigation into the failed Times Square car bombing, which Obama administration officials have said was aided and directed by the Pakistani Taliban, according to F.B.I. officials in Boston and a Justice Department spokesman in Washington.

The statement said the actions "do not relate to any known immediate threat to the public or active plot against the United States" and were undertaken based on evidence that was gathered in the investigation that followed the car bomb attempt on May 1.

"We can confirm that search warrants have been executed in several locations in the Northeast in connection with the investigation into the attempted Times Square bombing," said the statement, released by the office of Warren Bamford, the special agent in charge of the F.B.I.'s Boston office.
No word yet on the nationality of the people who were taken into custody or how they might be specifically connected to Faisal Shahzad. Video below.
Have a tip we should know? [email protected]