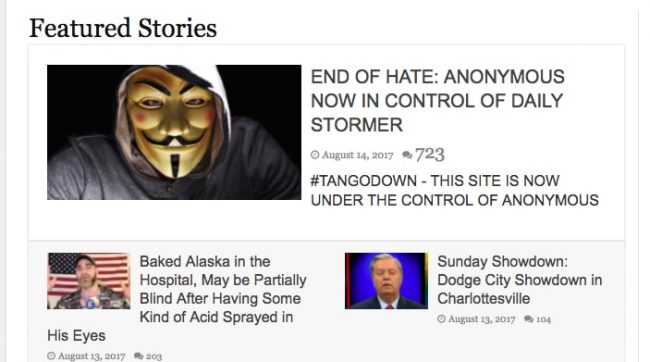 On Monday all 27 regular readers of the Neo-Nazi website The Daily Stormer came in for a rude awakening. In the site's featured story, an image of a man in Guy Fawkes mask was draped above the headline, "END OF HATE: ANONYMOUS NOW IN CONTROL OF DAILY STORMER"
In short — it appeared to be a hack.
Anonymous, a loosely associated hacker collective that crops up online from time to time, apparently took exception to some of the Stormer's coverage of the violence in Charlottesville, Virginia.
Readers who clicked the link were greeted with the following:
THIS SITE IS NOW UNDER THE CONTROL OF ANONYMOUS

WE HAVE TAKEN THIS SITE IN THE NAME OF HEATHER HEYER A VICTIM OF WHITE SUPREMACIST TERRORISM

FOR TOO LONG THE DAILY STORMER AND ANDREW ANGLIN HAVE SPEWED THEIR PUTRID HATE ON THIS SITE

THAT WILL NOT BE HAPPENING ANYMORE

WE HAVE ALL OF THE DETAILS ON THE SERVERS AND WILL BE RELEASING THE DATA WHEN WE FEEL THE TIME IS RIGHT

WE HAVE ALSO GATHERED LOCATIONAL DATA ON ANGLIN HIMSELF AND ARE SENDING OUR ALLIES IN LAGOS TO PAY HIM A VISIT IN PERSON

THIS EVIL CANNOT BE ALLOWED TO STAND

IT TOOK A UNITED FORCE OF ELITE HACKERS FROM AROUND THE WORLD TO BREACH THE SYSTEMS AND THE FIREWALL

WE HAVE HAD THE DAILY STORMER IN OUR SITES FOR MONTHS NOW

THE EVENTS OF CHARLOTTESVILLE ALERTED US TO THE NEED FOR IMMEDIATE ACTION

WE WANT YOU NAZIS TO KNOW: YOUR TIME IS SHORT

WE WILL ALLOW THE SITE TO REMAIN ONLINE FOR 24 HOURS SO THE WORLD CAN WITNESS THE HATE

THEN WE WILL SHUT IT DOWN

PERMANENTLY

HACKERS OF THE WORLD HAVE UNITED IN DEFENSE OF THE JEWISH PEOPLE

YOU SHOULD HAVE EXPECTED US
The message remained on the Daily Stormer main page as of 10:00 a.m. EST.
Ok — seems legit. The website is mostly maintained by founder Andrew Anglin and if he truly was hacked, it's possible enough that he has yet to regain control. His web hoster, GoDaddy.com announced late last night that they were dropping him, so they are likely not inclined to be very helpful either.
The case, however, isn't as open and shut as it seems. The account @YourAnonNews, which is not verified, but often taken as a source of information about Anonymous, posted a series of Tweets early Monday saying they were not behind the attack and suggested it was a false flag operation from Anglin to rally his base.
We have no confirmation that "Anonymous" is involved yet. Looks more like a DS stunt. Wonder if they are having issues finding a new host. https://t.co/ikXXRBfC5p

— Anonymous (@YourAnonNews) August 14, 2017
This is likely to be the derps from dailystormer engaging in a silly troll to woo their clueless base. If we're proven wrong, so be it. https://t.co/dkiXGCDEwY

— Anonymous (@YourAnonNews) August 14, 2017
The hack is curious as no other content on Daily Stormer appears to have been affected. So what is going on here — in short, we have no idea.
[image via screengrab]
Have a tip we should know? tips@mediaite.com