Did the Media Fall For a Fake Story About CNN Airing 30 Minutes of Hardcore Porn Last Night?
Editor's Note: There is an update to this story provided by the network's general manager at the bottom of this piece.
—
Admittedly, we in the Mediaite writer's room laughed out loud in shocked disbelief when we read the first headline this morning from the International Business Times:
Oops! CNN's Boston TV channel accidentally broadcasts 30 minutes of hardcore porn
The story was written by Mary-Ann Russon and detailed how CNN aired a half hour of hardcore porn in what was supposed to be the time slot for Anthony Bourdain: Parts Unknown late last night (feel free to enter any variation of "parts unknown" joke here). The piece features a number of Tweets from one user in particular: @solikearose, a user in Boston who asked her cable provider RCN via Twitter last night, "@universalhub did anyone else with @RCNconnects in Boston see the hardcore porn that was broadcast on @CNN by mistake?" The cable provider RCN services homes in the Boston, New York, Philadelphia and Washington, D.C. markets.
Looking through the hour-by-hour Twitter history of matching terms, the @solikearose account does indeed seem to be the first one to call attention to the mistake. Here is her first Tweet on the issue last night that I screegrabbed this morning: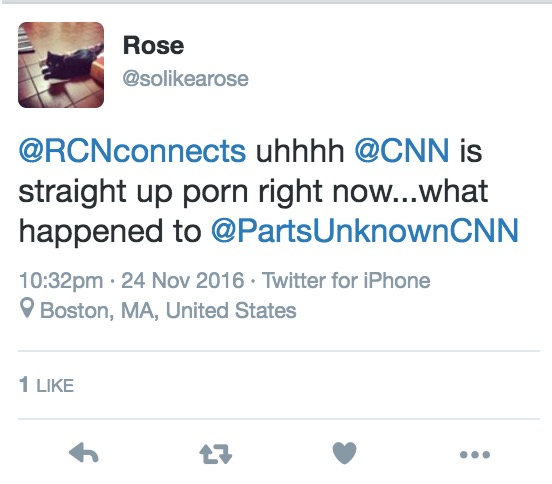 She even Tweeted out a photo of her screen: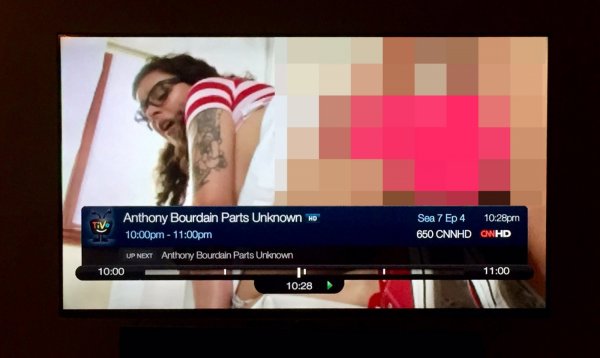 As happens in our industry, news spread like digital wildfire; before we knew it, Variety had published, "Cable Operator Snafu in Boston Leads to Porn Airing on CNN Channel," while The Independent ran with, "CNN accidentally airs 30 minutes of non-stop hardcore porn." Mashable went with, "30 minutes of hardcore porn just aired on CNN, apparently."
And those weren't the only news outlets: Complex. Fox News. Esquire. The Daily Caller. Red State. Yahoo. All writing about the same story.
The Independent is even presumably enjoying a nice boost of site traffic compliments of Mr. Drudge: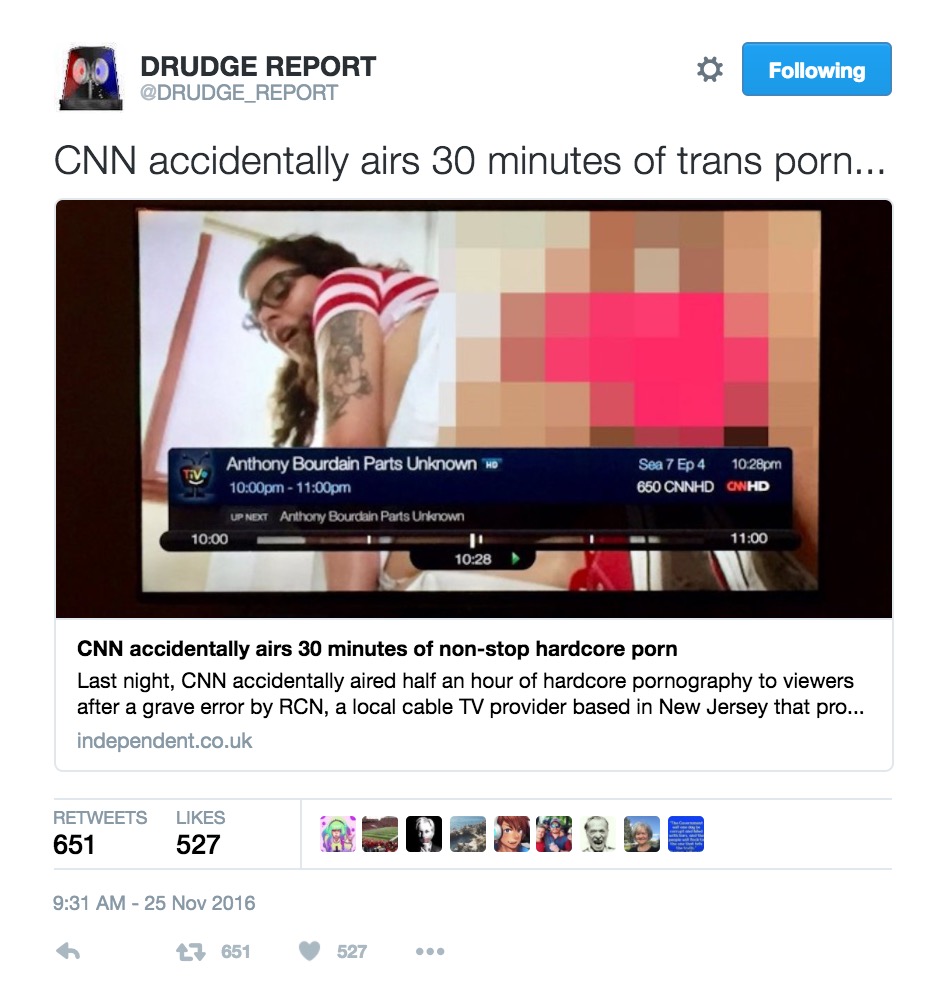 Sure enough, as I write this, if you do a Google News search for "CNN Porn" these are the top results you find: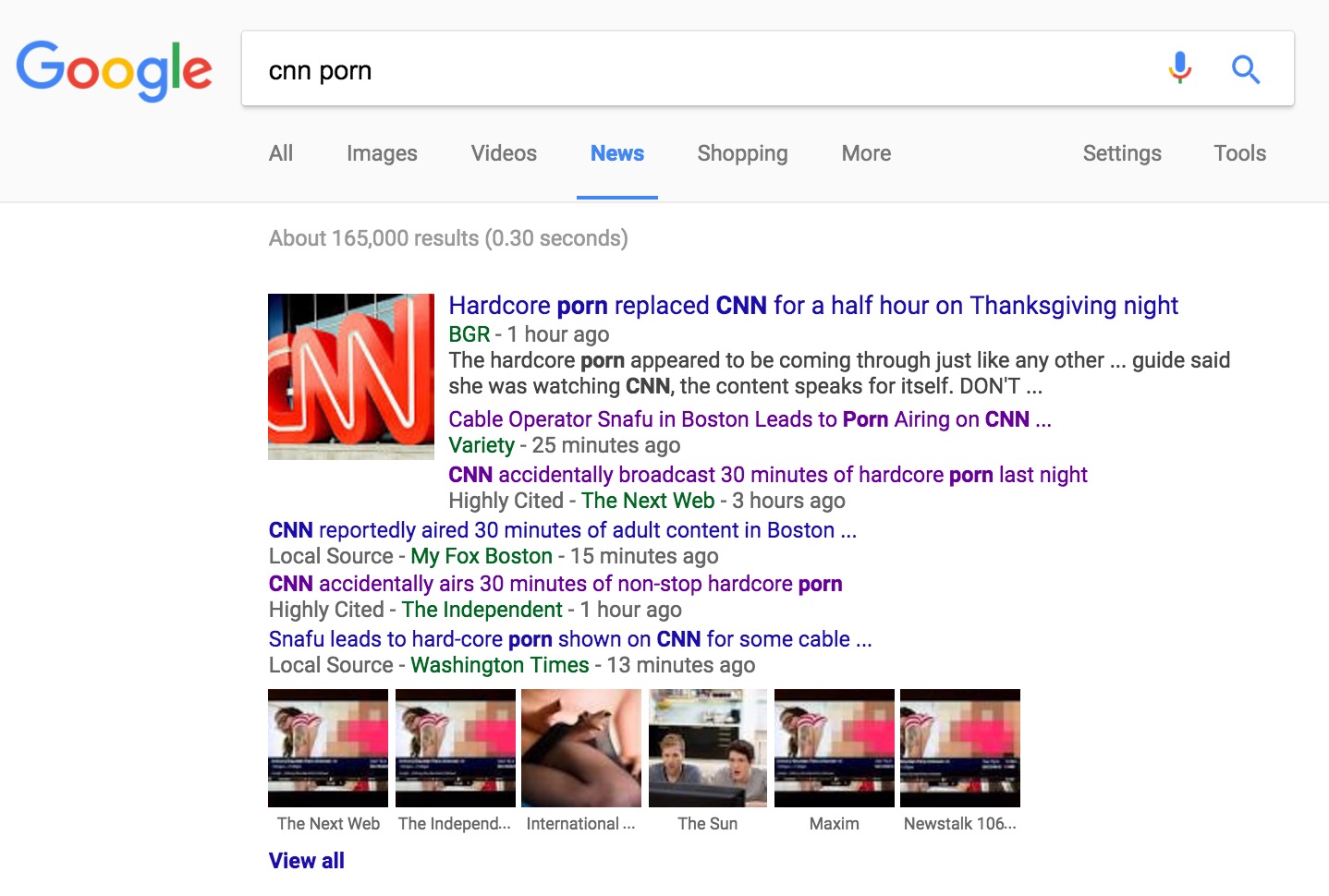 Based on the publishing time stamps, you can see that all these stories have been written within the last several hours.
But upon closer review, we noticed something peculiar; that user behind that original Twitter account — @solikearose — suddenly protected her Tweets, meaning that they are no longer available for public viewing or embedding use.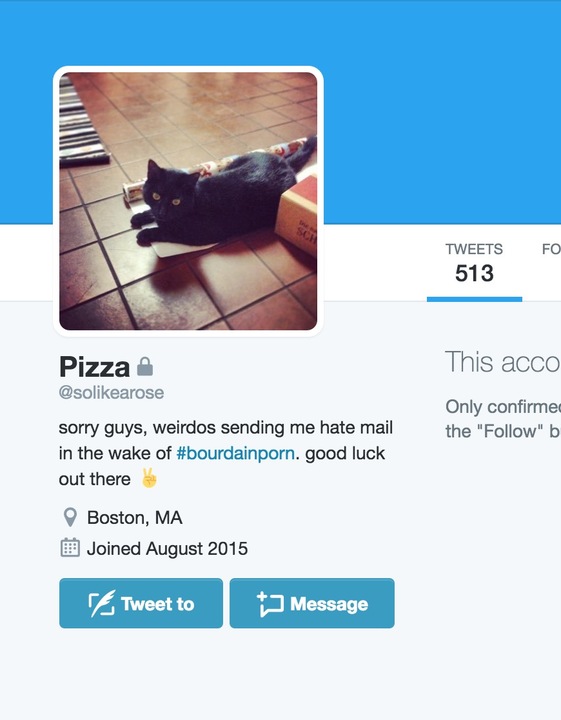 She wrote in her Twitter bio, "sorry guys, weirdos sending me hate mail in the wake of #bourdainporn."
For one, I would have just gone with the hashtag #Porndain and called it a day, but there are more important things to point out here, namely that this whole things seems to be one big fraud (though for all I know Jeff Zucker and Amy Entelis are planning a CNN Porn Original Series I know nothing about).
RCN responded by addressing Rose's concerns directly on Twitter: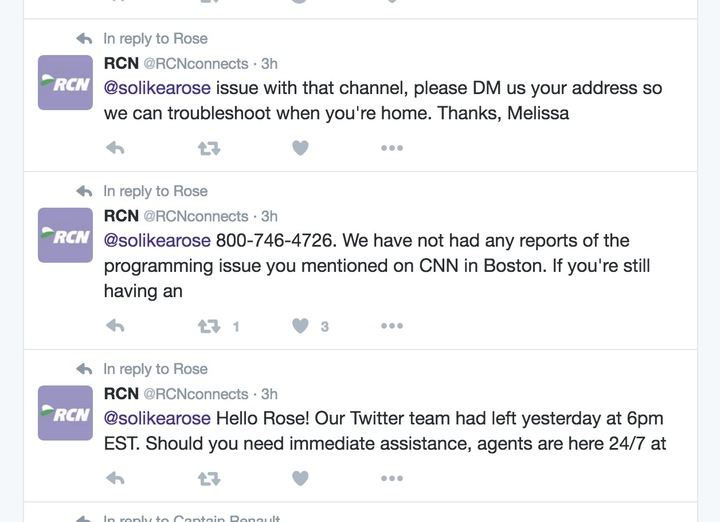 "We have not had any programming reports of the programming issue you mentioned on CNN in Boston," the account said, urging the woman to contact them with a follow-up.
Based on extensive searches through Tweetdeck for varying terms, it would appear as if only @solikearose Tweeted about the ordeal, something that seems incredibly unlikely for an 11 p.m. Thanksgiving Night snafu of disastrously epic proportions on CNN. Otherwise I'm relatively sure we would have seen a ton of "Blitzer? I hardly know her!" Tweets as it was happening.
Moreover, if the alleged content really was hardcore porn, it seems unlikely that the girl would Tweet out only this one perfect snapshot — and nothing else — which pixelates the naughty parts while leaving the TiVo lower third graphic untouched.
We reached out to both CNN and Mary-Ann Russon from International Business Times for comment on this. CNN replied back, "The RCN cable operator in Boston aired inappropriate content for 30 minutes on CNN last night. CNN has asked for an explanation."
…which to me, still seems suspect. No one is alleging that CNN would be at fault here; the consensus today is that RCN, the cable operator, would be responsible. It would seem to me as if CNN saw the instant uproar over it this morning and provided the above line to Mediaite while still admitting that they don't yet have an explanation! If this is true, then it would truly be a first in our moment-by-moment overly-connected culture where only ONE person in an entire TV market happened to catch THIRTY MINUTES OF HARDCORE BANGIN' LIVE ON CNN. It would go down in TV history as the most missed half-hour of holy-sh*t-what-just-happened programming of all time… save for one girl in Boston with a black cat Twitter photo.
But if my suspicions are correct — that a random girl in Boston faked a few Tweets and caused a media uproar — it would truly be the most forehead-smacking evidence yet of "fake news" permeating newsrooms and editorial efforts. In the wake of the election of President-elect Donald Trump, much has been made about duplicitous efforts to fool readers from seemingly legitimate news sources that pop up all over Facebook's algorithms. NPR tracked down the owner of the dubious Denverguardian.com, the same source that published (read: totally fabricated) the viral story from earlier this year with the headline, "FBI Agent Suspected in Hillary Email Leaks Found Dead." Just last night, the Washington Post reported on Russian propaganda efforts that helped prop up these faux-news stories in an attempt for further influence the outcome of the election.
Those examples are, at least, fake news sources that give the appearance of authenticity… but if the bizarre #Porndain scandal ends up being as fake as I suspect it is, then we've entered a whole new ballgame of editorial culpability and foolishness.
UPDATE: 3:12 p.m. EST: The SVP and General Manager of RCN Boston said in a statement, "We are in the process of researching this incident but see no evidence our CNN network feed was compromised last evening in Boston." This information is developing and we will update as more becomes known.
UPDATE: 4:25 p.m. EST: A CNN spokesperson tells Mediaite, "Despite media reports to the contrary, RCN assures us that there was no interruption of CNN's programming in the Boston area last night."
—
J.D. Durkin (@jiveDurkey) is an editorial producer and columnist at Mediaite.
This is an opinion piece. The views expressed in this article are those of just the author.