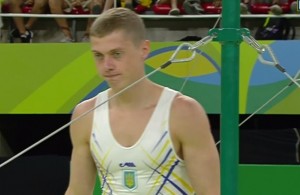 On Monday, Maksym Semiankiv, a Ukranian gymnast, walked up to the horizontal bar. He jumped on, and promptly let go. It was as though his hands were covered in oil. He didn't even try.
"That was strange," said NBC commentator Tim Daggett.
Semiankiv essentially repeated the scene three more times during Monday's All-Around, not bothering to compete in the events that make up the competition.
Turns out he was hurt. The Wall Street Journal quotes a teammate of Semiankiv's who says that the gymnast was having problems with his hand. 
But could the injured gymnast have been replaced?
The Journal reports that there was nothing in the rules that prohibited a lineup substitution.
"No…rules prevented them from making changes. Every team has their own strategy. They chose not to compete for a medal tonight," said Steve Butcher, president of the Fédération Internationale de Gymnastique, the sport's governing body. 
Another Ukrainian gymnast told the Journal that the team didn't have time to make a roster switch, but apparently all they needed to do was fill out a form and speak to the medical staff. Ukraine had other gymnasts on the team who could've conceivably taken Semiankiv's place.
Which begs the question…Did Ukraine purposefully lose the competition?
It's possible. The team members who sat out might have been looking to conserve energy for Wednesday's individual competition.
Still, Ukraine's refusal to give up their spot cost Switzerland, which would have qualified had Ukraine formally withdrawn — which they essentially did anyway.
[h/t SB Nation]
[image via screengrab]
–
Follow Joe DePaolo (@joe_depaolo) on Twitter
Have a tip we should know? tips@mediaite.com
Joe DePaolo - Senior Editor