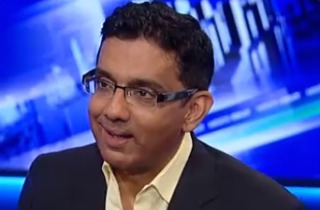 It seems Liberty University, a private Christian university, may be distancing itself from conservative filmmaker Dinesh D'Souza in light of his recent status as a convicted felon.
On Tuesday, D'Souza was sentenced to five years of probation for violating campaign finance laws. The judge's ruling came just three weeks after Young America's Foundation — a group that promotes conservative ideas on college campuses — announced a partnership with D'Souza that would put him on a tour of U.S. college campuses where he would show his conservative films.
So far, YAF is continuing its relationship with D'Souza. "At this point in time we fully support Dinesh D'Souza and plan to continue with our campus tour program this fall," YAF spokeswoman Ashley Pratte previously told Mediaite. "We have not heard that he is unable to participate and plan to continue as planned–spreading his message to campuses nationwide."
D'Souza was even booked by Liberty University the same day of his conviction, according to a mass email sent out by YAF Executive Director Patrick Coyle.
On Thursday, however, the public relations team at Liberty University was coy about whether it will go through with hosting D'Souza.
Mediaite had asked the university's PR department whether the school would continue plans to host D'Souza, in light of his sentencing.
The reply we got: "Dinesh D'Souza is not scheduled to speak at Liberty University this semester."
They did not return our request for more information. Neither did Pratte, the YAF spokeswoman. And neither has YAF's executive director.
When we called YAF's headquarters in Reston, Va., however, the person on the phone said she wasn't sure whether YAF was continuing its relationship with D'Souza.
We've also sent a request to D'Souza directly.
As part of his sentencing, D'Souza is to spend eight months in a San Diego "community confinement center" and also undergo "therapeutic counseling."
UPDATE — 7:57 p.m. ET: Pratte got back to us several hours later to say YAF is indeed hosting D'Souza at Liberty. She said the event is scheduled for Oct. 28.
[Photo via Fox News/screen grab]
— —
>> Follow Eddie Scarry (@eScarry) on Twitter
Have a tip we should know? tips@mediaite.com