DNA Evidence Links 2004 Murder Of Juilliard Student To Recent Occupy Wall Street Protest [Update]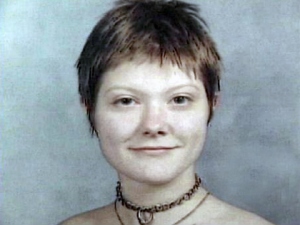 Update: According to the New York Daily News, the DNA "link" between the scene of Fox's murder and a March Occupy Wall Street protest held at a local subway station is the result of a "lab mix-up."
According to a source, the paper reports, the worker responsible for the confusion "will likely face departmental charges for not taking precautions to prevent tainting."
—
Investigators have been able to link DNA evidence from the May 2004 murder of Juilliard student Sarah Fox (pictured here) to a Occupy Wall Street subway protest from March of this year. DNA left on a chain at the subway station is evidently connected to that left at Inwood Hill Park, where Fox had been found strangled days after her disappearance.
NBC 4 New York reports:
Sources said Tuesday the DNA found on the CD player matches DNA found on a chain left by Occupy Wall Street protesters at the Beverly Road subway station in East Flatbush on March 28, 2012.

That Wednesday morning, protesters chained open emergency gates and taped up turnstiles in eight subway stations and posted fliers encouraging riders to enter for free.

A "communique" posted online later that day by the "Rank and File Initiative" described the act as a protest against service cuts, fare hikes and transit employees' working conditions.

It was attributed to "teams of activists, many from Occupy Wall Street… with rank and file workers from the Transport Workers Union Local 100 and the Amalgamated Transit Union."
Police are now currently attempting to identify the source of the DNA, although they caution that "no immediate evidence" indicates the DNA belongs to any of the protesters who chained open the gates during the OWS demonstration.
The case has had its share of publicized twists and turns, with a local CBS affiliate reporting that the prime suspect in the case had walked into a local police precinct, handing over a letter containing the name of Fox's real killer, which he claimed had come to him in psychic visions.
h/t NBC New York
Have a tip we should know? tips@mediaite.com