DNC Chair Candidate Keith Ellison Once Called For Separate Country for Black Americans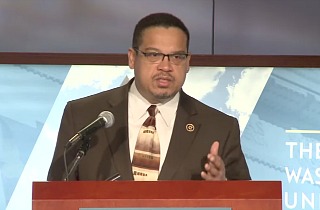 Democratic Minnesota Representative and Democratic National Committee chairman candidate Keith Ellison once called for slavery reparations and a separate country for black Americans in a university newspaper column.
Ellison's writings while a student at the University of Minnesota law school– under the name "Keith Hakim"– raised eyebrows when he announced his first congressional run in 2006. The Weekly Standard noted that "Ellison refers to 'Minister Louis Farrakhan,' defends Nation of Islam spokesman Khalid Abdul Muhammad, and speaks in the voice of a Nation of Islam advocate… 'Hakim' demands reparations for slavery and throws in a demand for an optional separate homeland for American blacks."
After Ellison announced he was seeking the chairman position, The Daily Caller News Foundation went back and dug up the columns in question, including two the Standard missed. In particular, they confirmed Ellison's past support for a separate country for African-Americans:
Blacks would have the option of choosing their own land base or remaining in the United States. Since black people toiled most diligently in the southeastern section of the United States, this land, quite naturally, would be most suitable. That means Arkansas, Alabama, Georgia, Louisiana and Mississippi. Blacks, of course, would not be compelled to move to the black state, and, of course, peaceful whites would not be compelled to move away.
"Whites would be relieved of the burdens of the black-faced but white-dominated social programs. Blacks would employ themselves, teach their own children the truth and control their own neighborhoods. Black-white interaction would be voluntary instead of compelled," he continued.
Ellison demanded the land grant in addition to a substantial slavery reparations payment. "This is a bargain," he insisted.
[Image via screengrab]
—
>>Follow Alex Griswold (@HashtagGriswold) on Twitter
Have a tip we should know? tips@mediaite.com