Television Station Faces Major Backlash Over Makeup Tutorial for Hiding Domestic Violence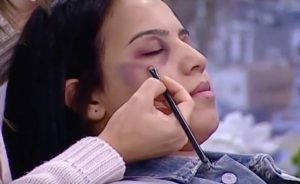 Somewhere in Morocco right now, the producers, executives, and hosts at state-run television station 2M are likely still in cleanup mode. They probably won't be emerging from it any time soon. You see, 2M's morning show Sabahiyat aired a makeup tutorial that centered on covering up bruises. You know, for when Moroccan men beat their wives but those wives still have to look good to go to work and pick the kids up from school!
If you think it sounds like it was in bad taste, just watch this little clip of it:
#aworldadrift Morocco TV. Makeup tutorial show how abused women can hide bruises. ?️?️?️? pic.twitter.com/xk1AlCEkpT

— CaLi (@CurioGorilla) November 26, 2016
According to Australia's ABC News, the video features beauty expert Lilia Mouline explaining how make-up can be used to "camouflage traces of violence." She gave the standard makeup tips that can be found on any YouTube guru's channel. She went over color correcting — "Use foundation with yellow in it; if you use the white one, your red punch marks will always show" — and the proper use of loose powder to set liquid foundation. If the model hadn't been made up to look like she was severely bruised and Mouline hadn't been chatting away about keeping punch marks out of sight through entire workdays, it could have been any other makeup tutorial.
The segment was intended to promote the International Day for the Elimination of Violence against Women. If you are saying, "Wait, doesn't learning to effectively hide bruising perpetuate the cycle of violence rather than eliminate it?" you're not alone.
A petition calling for the High Authority of Audiovisual Communication (HACA) step in and take action against the channel received hundreds of signatures and plainly stated that the focus of any DV-related programming should be condemning the perpetrators, not teaching victims to hide what's happening.
The station has responded to the backlash with this statement:
They offered "sincerest apologies" and called the segment "completely inappropriate." They stated their commitment to giving rights to wives and advocating for DV survivors.
Interesting take from a state-run television channel in a country with spousal and intimate partner abuse rates that prompted Newsweek to run an article called, "Why Domestic Violence Still Plagues Morocco" mere months ago.
[image: screengrab]
Have a tip we should know? tips@mediaite.com