Donald Trump still won't release his tax returns, and that has now become the latest subject of online mockery and trolling against him.
The Democratic National Committee launched a new website on Wednesday, and taxesbytrump.com prides itself on being the place where the presumptive nominee's records are publicized for all the world to see. All you have to do is click the "See Returns" button…but there's a catch.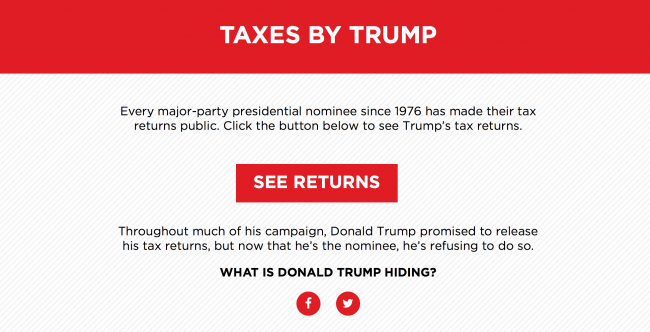 Any time the cursor reaches the button, it instantly moves itself away to another part of the page. The joke obviously refers to the mogul's reluctance to release his returns (despite promising to do so) until his audit is complete.
Mark Paustenbach, the DNC's national press secretary, spoke about the site with Business Insider, where expressed that it was ironic that Trump could continue with his reluctance after what he said yesterday at his press event. Paustenbach noted how Trump's explanation for not giving the details of his veterans donations to the press sooner was because he demanded the tax information of charities before giving them anything.
"It's more than ironic that Trump needs to see a group's tax records before supporting their efforts but is unwilling to show his own tax records before asking the American people to support his own bid for the White House," said Paustenbach. "Donald Trump is the standard-bearer for a double standard, and his standard for 'deal-making' has no place in the White House."
[Image via screengrab]
— —
>> Follow Ken Meyer (@KenMeyer91) on Twitter
Have a tip we should know? tips@mediaite.com