Undercovered: A Report Card on a Federal Initiative to Curb Inequality in Schools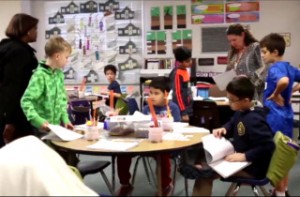 Welcome to Undercovered: our new daily feature bringing attention to excellent reporting and stories we feel deserve a larger audience.
—
A federal education program meant to curb inequality in schools has actually ended up contributing to it. That is the main takeaway from a report published Wednesday in U.S. News & World Report by Lauren Camera and Lindsey Cook.
Title I, an initiative from the LBJ era, is the "largest and most expensive federal K-12 program today," Cook says, and it was aimed at solving inequity in education funding. However, U.S. News reports that "20 percent of all Title I money for poor students – $2.6 billion – ends up in school districts with a higher proportion of wealthy families."
The answer lies in a complicated and outdated formula that's used to distribute the Title I money – a formula that's resulted in a series of significant funding discrepancies that can shortchange school districts with high concentrations of poverty, and benefit larger districts and big urban areas instead of poorer, rural districts and small cities.

"The places that are less poor are getting more money per poor kid," says Nora Gordon, an associate professor at the McCourt School of Public Policy at Georgetown University who recently conducted an analysis of the Title I program for The Hamilton Project. "This is what happens when you have four different formulas that are very opaque and interact in different ways. You can have a lot of things in the law that seem like a good idea, but the net result is not a progressive one."
The complete report includes an interactive map that allows readers to see the distribution of Title I in each local area in the county.
—
"Undercovered" is a new daily feature from Mediaite, bringing attention to stories that warrant more attention. If you have an idea or a tip, please email us at Undercovered@mediaite.com
[image via screengrab]
Have a tip we should know? tips@mediaite.com