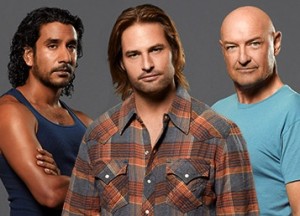 Those familiar with the Escher-esque narrative devices employed by the writers and producers of Lost know that part of the fun in following the show is reading the encapsulation and analysis the next day. Though at times it can feel a little like homework, reading the next day follow-up helps provide context and meaning to a show that dares to conceal both. And while there are many who play the game of "what does this all mean?" one of the absolute best is Entertainment Weekly's Jeff Jensen, who works furiously through the night to publish his 6 to 8-page precis the following morning under the moniker Doc Jensen. Since his latest is not yet up, here are others for you to mull.
Our personal favorite is that published within our own family (so yeah, we're biased) by Katelyn Moy Lapham at Geekosystem. Her's is a fairly simple and straight-forward approach, which is by no means a criticism. For those familiar with Lost, simplification and straight-forwardness are descriptions deserving to be paraded around the room on one's shoulders.
Another well though and highly regarded source for smart Lost analysis is NYmag's Culture Vulture. Not only are the recaps fun and enjoyable, but the NYMag comments section is often as entertaining as any other on the web. Alas, just like Doc Jensen, the NYMag recap is apparently still in draft. Drat!
There are numerous fan sites – too many to include honsestly. But the best appear to be Lost.com, LostPedia,4 8 15 16 23 42 and The Tail Section.
I am sure to be missing many, perhaps more important and relevant Lost sites. Please recommend them in the comments section and I will update the post. Frankly, I am a Doc Jensen man, and I never need read any other recap but his. So Mr. Jensen – please hurry up and finish your recap, because I need to know what the hell happened on Lost last night!
Have a tip we should know? tips@mediaite.com