'Don't Look to the United States For Hope': McCain Pens Scathing NYT Op-Ed on Tillerson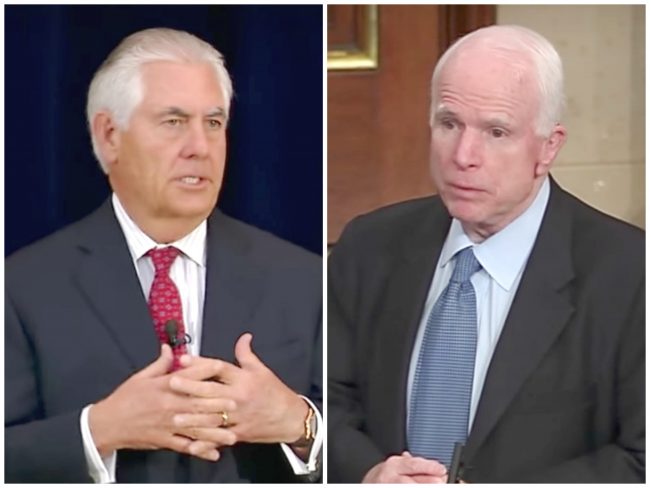 Senator John McCain struggled for weeks with the question of whether or not to vote for Rex Tillerson — President Donald Trump's pick for Secretary of State.
McCain ultimately decided to back Tillerson's confirmation. But it appears he may now be regretting his choice.
In a scathing New York Times op-ed published Monday morning, the Arizona Senator blasted Tillerson's address to State Department employees last week. Specifically, McCain took issue with a portion of the speech in which Tillerson suggested that the U.S. might overlook human rights violations from other nations if intervening conflicts with American interests.
"I think it's really important that all of us understand the difference between policy and values, and in some circumstances, we should and do condition our policy engagements on people adopting certain actions as to how they treat people," Tillerson said. "We should demand that. But that doesn't mean that's the case in every situation."
McCain blasted the Secretary for his stance.
With those words, Secretary Tillerson sent a message to oppressed people everywhere: Don't look to the United States for hope. Our values make us sympathetic to your plight, and, when it's convenient, we might officially express that sympathy. But we make policy to serve our interests, which are not related to our values. So, if you happen to be in the way of our forging relationships with your oppressors that could serve our security and economic interests, good luck to you. You're on your own.
In the piece, McCain referenced his own experience as a prisoner of war.
"Many, maybe most of us, might have given in to despair, and ransomed our honor for relief from abuse, had we truly believed we had been forgotten by our government and countrymen."
The Senator added, "We are a country with a conscience. We have long believed moral concerns must be an essential part of our foreign policy, not a departure from it."
[image via screengrab]
——
Follow Joe DePaolo (@joe_depaolo) on Twitter
Have a tip we should know? [email protected]
Joe DePaolo - Senior Editor