Drudge Report Hilariously Alleges That Hillary Clinton Is Now Copying Donald Trump's Hairstyle
Matt Drudge, the founder of the eponymous conservative media giant Drudge Report, currently boasts the following images as the lead story of his homepage: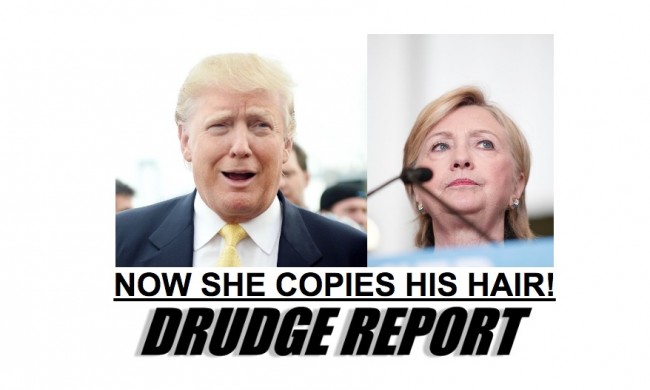 The foremost link redirects to a Tweet from Drudge's from early this morning that alleges, "After shifting policies to mirror Trump… now she copies his hair!" with a side-by-side photo of the two major party nominees: Donald Trump and Hillary Clinton.
Of course, there's nothing more of substance to the claims other than the photos, but Drudge is correct on his first assertion: there did seem to be a notable shift in tone regarding trade from the Clinton camp that made the Democratic party nominee sound like Trump.
For months, the real estate mogul turned politician has spoken about the need to impose tariffs on good coming into the United States from foreign countries. He has, at every turn, criticized our trade relationships with countries like Mexico and China, often saying, "We're getting killed," in these deals and indicating that these relationships are "disastrous."
During her economic speech last week, Hillary Clinton shared some of these sentiments, telling a crowd at a manufacturing plant in Michigan,"When countries break the rules, we won't hesitate to impose targeted tariffs."
She continued, "I'm going to ramp up enforcement by appointing a new chief trade prosecutor, tripling the number of enforcement officers."
While proposed trade and tariff policies may be one thing, hairstyles are something else altogether. And if there is one area where Clinton definitely wouldn't want to emulate her Republican rival, it's in the polls; the last two weeks have seen Trump sliding significantly both nationally and in battleground states. The Real Clear Politics average puts the former Secretary of State up +6.8% over Trump, while an estimate of the electoral college gives Clinton 256 votes with only 14 left to reach the victorious 270.
Have a tip we should know? tips@mediaite.com