Economist Scribbling Math Equations on a Plane Gets Profiled and Interrogated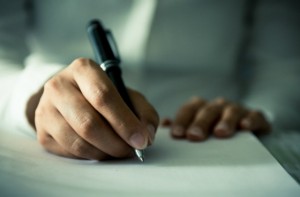 An economics professor at the University of Pennsylvania––an Italian named Guido Menzio––was profiled by the woman sitting next to him and interrogated.
Why? Because he was scribbling something she couldn't quite understand.
It was math.
According to The Washington Post, after speaking to Menzio for a while, she had apparently told the crew she felt sick, and when she was taken off the plane she explained she had serious concerns about her seatmate.
The plane never left the tarmac, and eventually Menzio was escorted off the plane and interrogated.
And this is what happened next:
That Something she'd seen had been her seatmate's cryptic notes, scrawled in a script she didn't recognize. Maybe it was code, or some foreign lettering, possibly the details of a plot to destroy the dozens of innocent lives aboard American Airlines Flight 3950. She may have felt it her duty to alert the authorities just to be safe. The curly-haired man was, the agent informed him politely, suspected of terrorism.
Menzio had to explain he was working on a differential equation having to do with––seriously––"menu costs and price dispersion."
Menzio himself spoke out and expressed some concerns about what he went through:
He is troubled by the ignorance of his fellow passenger, as well as "A security protocol that is too rigid–in the sense that once the whistle is blown everything stops without checks–and relies on the input of people who may be completely clueless. "

Rising xenophobia stoked by the presidential campaign, he suggested, may soon make things worse for people who happen to look a little other-ish.

"What might prevent an epidemic of paranoia? It is hard not to recognize in this incident, the ethos of [Donald] Trump's voting base," he wrote.
[image via Shutterstock]
— —
Follow Josh Feldman on Twitter: @feldmaniac
Have a tip we should know? [email protected]
Josh Feldman - Senior Editor