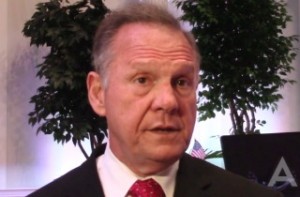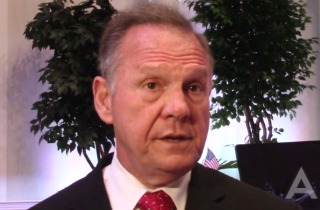 Alabama Chief Justice Roy Moore has been a polarizing figure for years, all the way back to 2003 when he fought a court order saying he had to remove his monument of the Ten Commandments from outside the Alabama Judicial Building.
After that fracas, he was removed after the state Judicial Inquiry Commission filed a complaint.
Moore returned to his position as chief justice in 2013, and as gay marriage bans came down all across the nation, Moore strongly resisted them and said that despite what the Supreme Court of the United States decided, state probate judges should refuse marriage license applications from gay couples.
Well, guess what. The Judicial Inquiry Commission has filed yet another complaint against Moore for "abus[ing] his authority," and according to The New York Times, he has been suspended from his position.
The JIC is going after Moore for not only his disregard for the law, but for his clear bias on the matter, given his incredibly public comments about what he thinks of gay marriage in the first place.
He insists he did nothing wrong:
"This is about legalism," he said, wearing his judicial robe and speaking to reporters in the rotunda of the state judicial building. "There is nothing in writing that you will find that I told anybody to disobey a federal court order."

On Friday, his lawyer, Mathew Staver, made a similar argument, insisting the matter at hand was one that could only be decided by the United States Supreme Court.

"The Judicial Inquiry Commission has no jurisdiction to resolve legal disputes," he said, "and the complaint is solely focused on a legal dispute between federal and state courts."
By the way, does the name of his lawyer, Mathew Staver, ring any bells? Well, last year one of his clients was none other than Kim Davis.
[image via screengrab]
— —
Follow Josh Feldman on Twitter: @feldmaniac
Have a tip we should know? tips@mediaite.com
Josh Feldman - Senior Editor