Ed Schultz: I'm Vindicated Now That 'Freaking Loser' Scott Walker's Out of GOP Race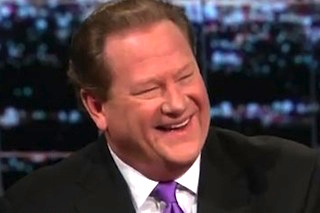 Former MSNBC anchor Ed Schultz has made it clear in the past that he has a particular hatred for Wisconsin governor Scott Walker. Walker called it quits for his presidential run earlier this week, which led to Schultz going on celebratory rant where he called him a "political disgrace" on his podcast yesterday.
Schultz began by stating that Walker was not contributing much to the general campaign of the Republicans, and that he was mostly just standing in the way of everybody else. Schultz also blasted him by saying his entire strategy was in depriving Americans of things like union bargaining rights and health care, while floating his campaign on funds from the Koch Brothers.
"He has no idea, he's never had an ideas and his ego was as big as Asia," Schultz said. "We all knew this was going to happen, we just didn't know it was going to happen this fast."
Afterwards, Schultz continued the slamming by calling Walker a "hack," an "embarrassment," and someone lacking "the academic credentials or the intelligence to be president of the United States."
"What we have learned from Scott Walker throughout all of these months is that you can do a helluva lot with an ego," Schultz said. "The guy's a freaking loser. I feel vindicated. I knew along that attacking workers, attacking unions, and taking things away from hard working families is not a pathway to the future."
You can listen here to the podcast here (the relevant part begins at 0:30):
[h/t Newsbusters]
[image via screengrab]
— —
>> Follow Ken Meyer (@KenMeyer91) on Twitter
Have a tip we should know? [email protected]