Elizabeth Warren Shows Grace Under Fire As Heckler Calls Her 'Socialist Whore'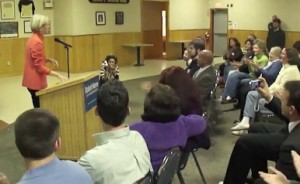 Massachusetts candidate for US Senate Elizabeth Warren continues to pioneer the art of grassroots publicity, as another one of her volunteer meetings has spawned a viral sensation. This time, it wasn't the size of the crowd, but rather, the candidate's calm handling of a profane heckler that's making the viral internet rounds. As Warren tries to engage the man, he calls her a "socialist whore," before attempting a comically flubbed storm-out.
Warren has already leveraged significant publicity from a series of humble sources. Her living-room rebuttal of so-called "class warfare" was a viral hit, her response to a question in a local debate sparked a kerfuffle that became national news, and a photo of the huge turnout at Warren's first volunteer meeting became political geek porn for progressives eager to take back the Ted Kennedy seat.
Now, she stands to get even more free publicity from an incident at a volunteer meeting in Brockton Wednesday night. From HuffPo:
The crowd tried to shout the man down, but Warren told her supporters to let him speak. "No, no, it's alright. Let me say two things," she said. "I'm very sorry that you've been out of work. I'm also very sorry that the recent jobs bill that would've brought 22,000 jobs to Massachusetts did not pass in the Senate."

Speaking in a packed VFW hall, Warren went on to address his question about her association with Occupy Wall Street. "I've been protesting what's been going on on Wall Street for a very long time," she said, but added that the movement has its own independent agenda and will proceed along its own course.

"Yeah, so has the Tea Party," the man said, before losing his cool.

"Well, if you're the intellectual creator of that so-called party," he said, "you're a socialist whore. I don't want anything to do with you." The crowd shouted him down as he added that Warren's "boss," presumably referring to the president, was "foreign-born."
The man then tries to storm out of the meeting, but can't work the door, and has to leave through a different exit. Warren, of course, makes me feel like a jerk for laughing at him, telling HuffPo, "I actually felt sorry for the guy. I really genuinely did. He's been out of work now for a year and a half. And bless his heart, I mean, he thought somehow it would help to come here and yell names."
Most accounts of the incident have identified the man as a "Tea Party supporter," a designation that Glenn Beck's The Blaze takes issue with, saying, "there is nothing in the report or related video to suggest this is true."
However, aside from the fact that the man explicitly references the Tea Party while heckling Warren, I can tell you from personal experience that "socialist" is the "Squirrel!" of Tea Party protesters.
Ironically, Warren hardly appears to need all of this free publicity, as her first few weeks of fundraising doubled rival Sen. Scott Brown's take from that entire quarter.
Here's the video of the incident, from The Huffington Post:
Have a tip we should know? tips@mediaite.com