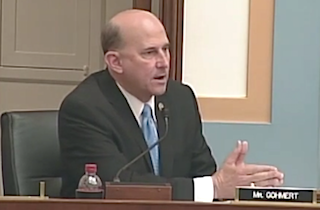 An ethics watchdog group has filed a complaint against Rep. Louie Gohmert, accusing the Texas Republican of misusing campaign funds to foot the bill for a trip to England that included a 5-star hotel and a $200-plus taxi ride.
The complaint, filed by Citizens for Responsibility and Ethics in Washington (CREW), was addressed to the staff director and chief counsel of the Office of Congressional Ethics and demands an investigation into whether Gohmert violated House rules by using campaign money for a trip that seemingly had nothing to do with his campaign.
The complaint details specific parts of a Federal Elections Commission (FEC) expense report from Gohmert's campaign committee that show four instances of payments to hotels and taxis during a trip to England in late 2014 that involved multiple speaking engagements. The expenses totaled about $6,000, including $5,451 to a 5-star hotel in London and a $235 taxi bill in Cambridgeshire.
Due to the obvious fact that British citizens cannot vote for Gohmert, CREW says the aforementioned payments are not eligible to be labeled "campaign expenses" and were clearly done to "satisfy his personal obligations."
"Rep. Gohmert's legendary tirades may put him in high demand for public speaking engagements, but that doesn't give him license to bill a luxury London vacation to his campaign," CREW interim Executive Director Anne Weismann said.
Gohmert spokeswoman Kimberly Willingham told The Hill that the expenses were billed to his campaign committee to avoid charging taxpayers.
"Though most of his talks were political in nature, some might have been arguably official, but he chose the safer route of making it a political trip, and so official funds were not used," Willingham said. "House Ethics prohibits the use of official funds being used for events that are political in nature; therefore, I am not entirely sure what the fuss is about."
Gohmert garnered attention earlier this month when he mounted an unsuccessful challenge against John Boehner to become Speaker of the House.
[h/t The Hill]
[Image via screengrab]
— —
>>Follow Andrew Desiderio (@forza_desiderio) on Twitter
Have a tip we should know? tips@mediaite.com