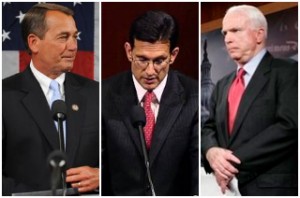 Conservative commentators have had a lot to say over the last 24 hours about the fact that Sen. Tim Scott (R-SC), the only African-American in the Senate, was not invited to yesterday's March on Washington 50th Anniversary celebration. According to Bill O'Reilly, it was strange that "no Republicans and no conservatives were invited" to the event. As it turns out, that's just not true.
As the Washington Post's Ed O'Keefe reported today, "not a single Republican elected official stood on the steps of the Lincoln Memorial on Wednesday." But it's not because they weren't invited. While Scott's office has confirmed that the senator was not invited, many of his senior colleagues were.
Here's a run-down of the top Republicans who were invited to the March on Washington anniversary event, and why they reportedly decided not to show.
Former Presidents George H.W. Bush and George W. Bush: It was notable that the two former presidents, Jimmy Carter and Bill Clinton, who spoke at the event were both Democrats, with the Bushes nowhere to be seen. The 41st and 43rd president were both invited, but chose to decline because of health reasons. In a statement, George W. Bush said, "There on the National Mall our President, whose story reflects the promise of America, will help us honor the man who inspired millions to redeem that promise."
House Speaker John Boehner (R-OH): The top Republican in the House declined his invitation because of a scheduling conflict. He is currently in Jackson Hole, Wyoming and had no public events scheduled for Wednesday. Boehner did attend an official congressional commemoration of King's "I Have a Dream" speech on July 31st.
House Majority Leader Eric Cantor (R-VA): According to the Grand Forks Herald, Cantor spent Wednesday touring oilfields in North Dakota with Rep. Kevin Cramer (R-ND) and meeting with the North Dakota Petroleum Council lobbying group.
Senator John McCain (R-AZ): Despite having voted against making Dr. Martin Luther King, Jr. Day a federal holiday in 1983, the event committee did invite McCain to speak, but he declined due to unspecified "scheduling conflicts."
The Rev. Leah D. Daughtry, who served as executive producer of the commemoration, told the Washington Post's O'Keefe that her committee began inviting members of Congress to attend four or five weeks before the event.
"We had a very concerted effort, because this is not a political moment. This was about us coming together as a community, so we wanted to be sure that we had all political representations," Daughtry said. "We attempted very vigorously to have someone from the GOP participate and unfortunately they were unable to find someone who was able to participate."
[photos via House.gov, Senate.gov]
—
>> Follow Matt Wilstein (@TheMattWilstein) on Twitter
Have a tip we should know? tips@mediaite.com