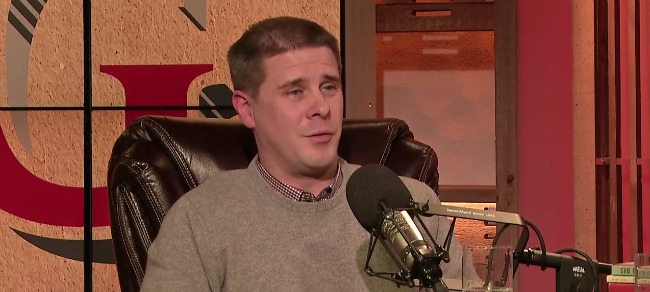 Dan Pfeiffer, former senior adviser to President Barack Obama who left the White House last week, sat down for a rambunctious interview with Andy Greenwald and Chris Ryan over at Grantland's "Hollywood Prospectus" podcast. Pfeiffer worked for Obama since the start of his 2008 presidential campaign, and has some interesting insights about the president and what it's like to be work for the leader of the free world. For you political drama lovers, there was lots of talk about The West Wing, Veep, and House of Cards.
Here are some of the biggest takeaways, according to this humble scribe:
The president's door to the Oval Office is always open, unless he is in a "serious meeting" or talking with a foreign leader.
President Obama doesn't watch network TV; he only watches cable. Pfeiffer was "horribly disturbed" when he read that Obama likes Downton Abbey.
The president often gets copies of hit TV shows before they air — for example, that Mad Men premiere you've all been waiting for has already been delivered to Mr. Obama.
"Burn bags" do, in fact, exist, and they are essential to everyday business. Every piece of paper eventually finds its way into one, Pfeiffer said.
During the run-up to the infamous government shutdown, Pfeiffer had a "not unserious conversation" with Obama potentially pulling a West Wing by walking (but probably driving) to the Capitol to heroically end the shutdown, just as President Bartlett did in the political drama series. So just imagine Obama knocking on Boehner's door trying to end the shutdown. No worries there, right?
Pfeiffer said he actually worries about the next generation of political operatives basing their aspirations on what they see in House of Cards, as opposed to the West Wing. Pfeiffer's thoughts on HoC? "I would say that House of Cards is as accurate a depiction of Washington as The Walking Dead is of life in suburban Atlanta." He said he's also bored by the "weird side-plots" in House of Cards. Veep, he says, is the most realistic because it "gets at the core absurdity of Washington."
Pfeiffer thinks the White House Correspondents Dinner is an "embarrassment," but a "fun embarrassment."
Congress, according to Pfeiffer, turned out to be "aggressively more broken" than the Obama team had ever imagined. And, spoiler alert: the country is much more polarized than it was before Obama took office.
One of the most fun moments Pfeiffer had while working for the president was the night the Affordable Care Act passed, and one of the most surreal moments was, understandably, when Osama bin Laden was killed.
Pfeiffer was "super mad" about the bin Laden episode of Newsroom (the "worst scene in all of television") because the way everyone knew that the president was making the announcement was Pfeiffer's tweet — but Newsroom didn't give Pfeiffer the name-drop, and only said the White House tweeted it.
The White House doesn't have wi-fi — everything is hard-wired through Ethernet cables. "Very old school," Pfeiffer said. "We use Blackberries, no wi-fi."
He doesn't plan on returning to politics.
You can watch the full 47-minute interview below, via Grantland:
[Image via screengrab]
— —
>>Follow Andrew Desiderio (@forza_desiderio) on Twitter
Have a tip we should know? tips@mediaite.com