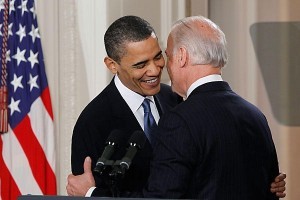 Beltway tongues are wagging at gale force this week over the possibility of a presidential run by current Vice President and Favorite Uncle of the United States (FUTUS) Joe Biden. It started with a weekend meeting between Biden and Democratic Party rock star Sen. Elizabeth Warren (D-MA), and escalated with the Veep's regularly-scheduled private lunch with President Barack Obama, at which Obama reportedly gave Biden's candidacy his "blessing." The buzz reached hemorrhagic fever pitch when White House Press Secretary Josh Earnest talked Biden up during Monday's daily briefing.
As it turns out, though, none of what has the media buzzing about a Biden run is actually news. The White House has been publicly stating the same thing about a Biden run for months, even years, and has been consistently clear that such a move would have the President's blessing, should Biden choose to run.
Those rooting for VP Biden to jump in do have a new reason to celebrate, though. According to one major 2008 Hillary Clinton bundler and longtime Biden insider, it's "pretty conclusive" that Joe Biden will run for the Democratic presidential nomination against former Secretary of State Hillary Clinton.
He says that a lot of donors are "looking for a candidate they can get behind, and Joe is that guy. The truth of the matter is, regardless of the scandals, there's just not enough love out there for Hillary Clinton."
The chatter among Democratic donors nationwide, he says, is that "Hillary's just not doing it," and the chatter from Biden's inner orbit is that it's "pretty conclusive, at this point, that he will run."
Another top Hillary backer from 2008 is still in the boat, though. Democratic donor, fundraiser and Clinton confidant John F.X. Graham says that he's still all-in for Secretary Clinton, although he respects and admires Biden. "Joe is a great person," he says, "but I do question, he's 72 years old, I do question why he would want to go through all of that, and do all of that. He's 72 years of age."
Graham thinks that a Biden candidacy will do more to hurt Bernie Sanders than Hillary, particularly if Sen. Warren throws her support behind Biden. His own sources put the possibility of a Biden run at "fifty-fifty" at this point, but Graham adds "If I were Joe, at this point, I would take a look at that and see if that's where I want to be in life, after everything he's been through. But I don't think that'll stop him if he really wants to do it."
Graham, who was a Clinton campaign co-chair in 2008, is still raising funds for Hillary, and points out that, also this week, a who's-who of New Jersey Democrats, including rising star Senator Cory Booker (D-NJ) came out and endorsed Hillary. "That she has that kind of organization behind her at this early point, that's unprecedented," he says.
What will really tell the tale, though, is whether Biden can secure the right kind of support for his candidacy at this late date. Biden has reportedly invited donors to meet with him in a few weeks, and according to that former Hillary bundler, the VP is going to like what he hears. If he does, it will be a big f-ing deal, indeed.
— —
Have a tip we should know? tips@mediaite.com