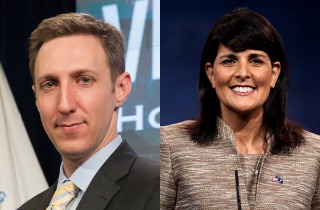 Early Thursday morning, South Carolina governor Nikki Haley released a statement condemning the shooting in Charleston, asking what could have motivated the murder of innocents during a peaceful religious meditation. Shortly afterwards, Brandon Friedman, the former deputy assistant secretary of public affairs at the Department of Housing and Urban Development, decided to cash in on the attention by linking the event to an unrelated story from Haley's part.
Using the Charleston Shooting hashtag, Friedman tweeted an old Talking Points Memo story on the Republican governor's defense of flying the Confederate flag.
In October, Gov. Nikki Haley defended flying the Confederate flag outside the South Carolina statehouse. http://t.co/1OFHhM7Ryl #Charleston

— Brandon Friedman (@BFriedmanDC) June 18, 2015
The link between the shooting and the flag defense is currently unclear, and Friedman has not responded to those who have tweeted him in response. Many of those respondents have given Friedman their disapproval, saying that he is using the tragedy in order to politicize a comparatively-trivial incident.
@BFriedmanDC You couldn't wait until the bodies were cold to score political points? #CharlestonShooting

— J.D. Elliott (@jde4zion) June 18, 2015
@BFriedmanDC this is relevant. Not.

— David Martosko (@dmartosko) June 18, 2015
WTF? @BFriedmanDC How does this help? Are you accusing Nikki Haley? Absolutely classless.

— Dana Loesch (@DLoesch) June 18, 2015
@thehiredmind @BFriedmanDC @scooterrat So we need to be on the look out for a flag 115 miles way from the shooting. #LiberalThink

— Michael Ring (@Loricatus_Lupus) June 18, 2015
.@BFriedmanDC You sure you want to go this route, guy who called military officers psychopaths?

— Stephen Miller (@redsteeze) June 18, 2015
@BFriedmanDC Apparently there is NOTHING you people in the admin won't politicize. Pure evil. #NeverAgainIsNow #TCOT #PrayforCharleston

— USshrugged (@USshrugged) June 18, 2015
.@BFriedmanDC Couldn't you at LEAST express condolences before exploiting 9 deaths for political gain?

— Hired Mind (@thehiredmind) June 18, 2015
@BFriedmanDC This is appalling. What is the matter with you? Where's the connection? What is your point?

— Pat Gomm (@patgotweet) June 18, 2015
@BFriedmanDC just can't help yourself, can you? Grow up and try to act like an adult. No wonder you are out of work

— Mme. PJ (@museisluse) June 18, 2015
[h/t The Blaze]
[Image via U.S. Department of Housing and Urban Development / Gage Skidmore]
— —
>> Follow Ken Meyer (@KenMeyer91) on Twitter
Have a tip we should know? tips@mediaite.com