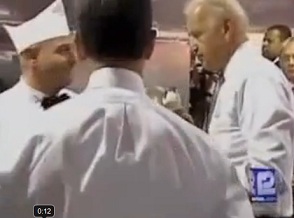 Scott Borkin, the Kopp's Custard manager recently dubbed "smartass" by Vice President Joe Biden, appeared on Fox & Friends yesterday to talk about his experience, and to allay concerns that he's some kind of anti-tax crusader. I caught up with Mr. Borkin to fill in some of the unanswered questions, like whether he and Biden were headed for a "Custard Summit," or of they'd left on good terms, and the question that's surely on everyone's mind: What's the difference between frozen custard and ice cream?

In case you missed it, here's the video of Biden's visit to Kopp's Custard, and his interaction with Scott Borkin:
Scott Borkin is definitely a hardworking guy, as evidenced by the fact that our brief interview was interrupted several times so he could take care of customers at Kopp's Custard (kudos to his boss for not going with the "Kopp's Kustard" kliche´), where he has worked for a long time. "I've been here almost 32 years, I'm not going anywhere." Borkin says. "I've got an amazing boss to work for, and I'm going to stick with him."
While he didn't vote for Obama/Biden in '08, Borkin insists his joke was just that, a joke, and not some grand political statement. In our brief interview, he ably conveys that guilelessness.
What kind of responses have you gotten?

99.9% positive. I've just had 1 negative comment, from an older gentleman. He said that Biden was mistaken, I'm not a smartass, I'm an asshole.

Was Biden's visit good for business?

It's hard to say, we're extremely busy no matter what. This week, we have Summerfest going on down at the lakefront, that always brings in a ton of business. It has been really busy, maybe a little bit busier than usual, but it's a tough one to call.

Did you have a chance to make up with Biden?

He came up to me and apologized. He came up about two, three minutes later, put his arm around me, and said, "You know, I was just kidding."

Everyone keeps asking me this question, I've got nothing against him. He puts his pants on one leg at a time, every day, just like I do. I made, just, a jokingly comment, because at the beginning, when he came in, there was a lot of joking around, it was very friendly, and I made my…comment, there was nothing intended by it, it was just to be funny, and he…didn't take it that way.

Having had some time to think about it, what would you like to ask the Obama administration?

I would not like to see my taxes go up, everyone in America would like to see their taxes go down, it's just a common thing, I don't care if you're a Republican or a Democrat. Nobody wants to see their taxes raised. I, personally, have a different situation than the typical person out there. I have a 4 year old son with Down Syndrome. He's the best thing that ever could have happened to me in my life, outside of my wife, but we've got added expenses that my insurance doesn't always cover. If I have to pay more taxes, I'm not able to provide him with the extra therapies to make his life as typical as anyone else that he would go to school with.

But the comment I made to Biden…it's probably the same answer you're going to get from any red-blooded American.

What flavor custard did Biden have?

Chocolate.

What's the difference between frozen custard and ice cream?

Custard has a high butterfat content, heavy cream, egg yolks, sugar, it's all natural. If you buy a pint, put it in your freezer, you're gonna want to eat it within two weeks. If you buy ice cream from the store, you could probably stretch it to two months. It's just richer. Once you've had frozen custard, you'll be addicted, you won't be able to eat ice cream the way you used to. My favorite flavor right now is red velvet cake.
Have a tip we should know? tips@mediaite.com