FactCheck.org Says Republican "Pledge To America" Doesn't Have All Its Facts Straight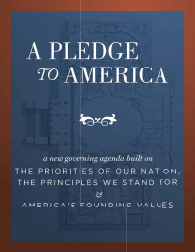 On the heels of President Obama—who lambastes the GOP's "Pledge to America" for advocating "irresponsible policies"—FactCheck.org is also criticizing the Pledge, saying that it isn't wholly factually accurate.

Here are the website's qualms with the GOP's manifesto, all of which are explored more fully here:
– It declares that "the only parts of the economy expanding are government and our national debt." Not true. So far this year government employment has declined slightly, while private sector employment has increased by 763,000 jobs.
– It says that "jobless claims continue to soar," when in fact they are down eight percent from their worst levels.
– It repeats a bogus assertion that the Internal Revenue Service may need to expand by 16,500 positions, an inflated estimate based on false assumptions and guesswork.
– It claims the stimulus bill is costing $1 trillion, considerably more than the $814 billion, 10-year price tag currently estimated by nonpartisan congressional budget experts.
– It says Obama's tax proposals would raise taxes on "roughly half the small business income in America," an exaggeration. Much of the income the GOP is counting actually comes from big businesses making over $50 million a year.
FactCheck describes itself as a "nonpartisan, nonprofit 'consumer advocate' for voters that aims to reduce the level of deception and confusion in U.S. politics," meaning that there shouldn't be any political motivation behind their criticism—as long as that description is accurate. If the organization isn't being driven by partisanship, then their characterization of the pledge as "more caricature than portrait" that simply leaves out "any facts that might brighten it" sounds pretty damning to us.
Have a tip we should know? tips@mediaite.com