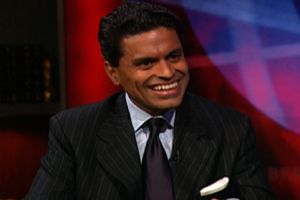 Newsweek International editor and CNN host Fareed Zakaria returned a 2005 award to the Anti-Defamation League yesterday over the organization's opposition to the opening of a mosque near Ground Zero in lower Manhattan. In a letter to the organization, Zakaria writes, "I cannot in good conscience hold onto the award or the honorarium that came with it and am returning both."
Zakaria returned the Hubert Humphrey First Amendment Freedoms Prize and the $10,000 stipend that comes with it yesterday, saying in an open letter to the organization that he was "stunned" by it's call to relocate the mosque and that he could not "in good conscience" keep the award:
"You are choosing to use your immense prestige to take a side that is utterly opposed to the animating purpose of your organization. Your own statements subsequently, asserting that we must honor the feelings of victims even if irrational or bigoted, made matters worse.

I hope that it might add to the many voices that have urged you to reconsider and reverse your position on this issue.  This decision will haunt the ADL for years if not decades to come. Whether or not the center is built, what is at stake here is the integrity of the ADL and its fidelity to its mission. Admitting an error is a small price to pay to regain your reputation."
ADL National Director Abraham Foxman replied to Zakaria in a letter on the organization's website, where he said Zakaria's decision left him "not only saddened, but stunned and somewhat speechless," and that he was holding on to the awards in case Zakaria reconsiders. He also asked Zakaria to reread the ADL's statement on the mosque and consider their opinion on the matter, but did not indicate that the organization would change their position.
Have a tip we should know? tips@mediaite.com