Father of Murdered WDBJ Journalist Tears Apart the NRA and Their 'Orange-Faced Fuhrer'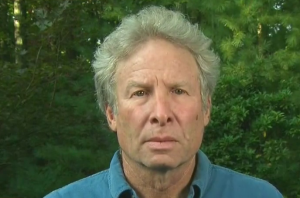 On the anniversary of his daughter's tragic death on live TV, Andy Parker launched a full-throttle tear into the NRA and Donald Trump for their repeated efforts to crush any and all forms of gun control.
The story of Alison Parker and Adam Ward captivated the nation exactly one year ago, when the two journalists were murdered in the middle of their broadcast by an angry former colleague. Mr. Parker expressed tremendous grief at the time for the loss of his daughter, though he has since dedicated himself to calling for new, increased measures for gun safety.
In a passionate op-ed for New York Daily News, Parker ripped into the "treasonous Republican leadership" for continuing to operate under the thumb of the NRA:
The NRA still controls too many politicians. There is no new meaningful common-sense gun legislation passed at a federal level, and terrorists on watch lists can still buy weapons even if they can't board a flight.

The NRA, however, continues spouting the myth that Hillary Clinton and other political leaders advocating gun sense want to abolish the Second Amendment. How many times do reasonable people have to say, "No one is coming to take your guns away and if you can pass a background check, you can buy a firearm?"
Parker specifically called out Republicans like Paul Ryan, Mike McCaul and Bob Goodlatte, saying that they know better, but cowardly choose to keep themselves in the NRA's pocket.
"They're not knuckle-draggers waving Confederate flags at Trump rallies, but they still fall in lockstep behind their orange-faced Fuhrer who promotes this 'assault on the Second Amendment' nonsense," Parker said.
In the end, Parker wrote that he witnessed the actions of Hillary Clinton and Tim Kaine, and says he has hope that people are ready to take the fight for gun control seriously.
[Image via screengrab]
— —
>> Follow Ken Meyer (@KenMeyer91) on Twitter
Have a tip we should know? tips@mediaite.com