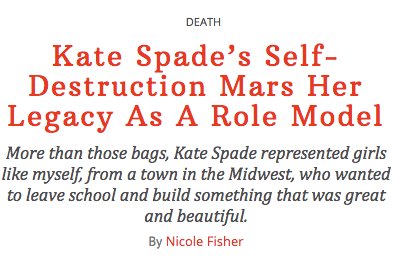 The Federalist is back at it again…
Ben Domenech's factory of bad takes is always expected to churn out contrarian headlines that are either so hilariously bad they inspire mockery, or so offensive they draw outrage.
But the website outdid itself on Wednesday, publishing a story bearing the remarkably tasteless headline: "Kate Spade's Self Destruction Mars Her Legacy as a Role Model."
The text of the story, written by a policy adviser and contributor to the website, is innocuous considering the headline it bears. It's a short piece summarizing Spade's career as a fashion designer, with no mention of any self-destruction.
It makes a brief mention of her "untimely death," and ends with a number for the National Suicide Prevention Lifeline (1-800-273-8255).
Did The Federalist get submitted a nice story on the career and tragic death of Spade and slap a horrific headline on it to shock people into clicking on the story? Perhaps. It certainly got me to click on it.
Apparently the backlash to the piece was too much for even the Fed, however, as the website stealth-edited the headline a few hours after it was originally published.
It now reads, "Let's Remember Kate Spade For The Women's Role Model She Was." Sweet, but perhaps not as shareable.
Tip from Mediaite: If you're going to stealth edit a headline, never forget to update the permalink.

[image via screengrab]
—
Follow Aidan McLaughlin (@aidnmclaughlin) on Twitter
Have a tip we should know? [email protected]
Aidan McLaughlin - Editor in Chief