First Look: American Bridge SuperPAC Goes After Mitt Romney Hard On Women's Rights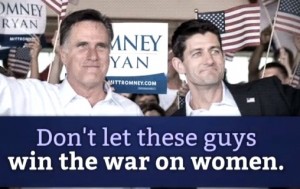 As part of their effort to exploit the indifference toward women revealed by Republican presidential candidate Mitt Romney's "binders full of women" remark at Tuesday's debate, progressive superPAC American Bridge is preparing to release a new video that hits the Romney/Ryan ticket hard on their poor record concerning women's rights. Soon to be added to the group's BindersFullOfWomen.com site, the video pins Romney and Ryan to their most extreme positions on abortion rights, contraception, and pay equity, countering efforts by the Romney campaign to muddy those waters.
Within minutes of Romney's "binders full of women" anecdote at Tuesday night's debate, which turned out to not even be true, American Bridge purchased the name "BindersFullOfWomen.com," and within hours, had transformed it into a clearinghouse of information about Mitt Romney's and Paul Ryan's record on women's issues. Since that debate, the Romney campaign has been running ads trying to portray Gov. Romney as a moderate on issues like abortion and contraception, taking advantage of the fact that since Romney has held every position there is on these issues, the media often gives him credit for all of them.
This American Bridge video serves to remind voters that Mitt Romney has repeatedly voiced support for a ban on all abortions, with no exceptions, has promised to defund Planned Parenthood (which provides contraception to millions of women), opposed the Lilly Ledbetter Act, and that running mate Paul Ryan makes Romney look like a hippie. Ryan, even now, proudly displays his belief that there should be no exception for rape ("forcible" or…otherwise?) or the health of the mother. He also supports laws that would even criminalize birth control. In case any voters missed it, the "Vice" they put in front of "President" means that if something happens to take Romney out of office, this guy is in charge.
Ryan, for what it's worth, has at least been consistent in his opposition to women's reproductive freedom, and that's really the yardstick voters should use. Instead of praying that Mitt Romney chooses the least onerous card from the deck, they ought to assume he's already dealt them from the bottom.
Here's the video, from American Bridge:
Follow Tommy Christopher (@TommyXtopher) on Twitter.
Have a tip we should know? tips@mediaite.com