FLASHBACK: Trump Called Weiner a 'Security Risk' Reflective of Clinton's Bad Judgment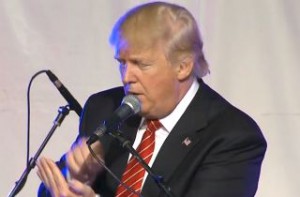 Hey, so now might be a good time to revisit what Donald Trump has said about Anthony Weiner, huh?
As if this campaign couldn't get any more ridiculous, it turns out the FBI's investigation into Hillary Clinton's emails is not quite dead yet all thanks to the FBI's probe into Anthony Weiner.
Now, you may recall that Trump has taken a great deal of glee in going after Weiner during the campaign season. During one campaign stop he called him a "perv," did that whole "bing bing bing" cell phone beeping routine, and said Huma Abedin must be "desperately in love with him" to stay with him.
And then there were some prescient tweets Trump sent out a while ago that seem, um, interesting in hindsight:
Huma should dump the sicko Weiner. He is a calamity that is bringing her down with him.

— Donald J. Trump (@realDonaldTrump) September 23, 2013
It came out that Huma Abedin knows all about Hillary's private illegal emails. Huma's PR husband, Anthony Weiner, will tell the world.

— Donald J. Trump (@realDonaldTrump) August 3, 2015
Huma Abedin, the top aide to Hillary Clinton and the wife of perv sleazebag Anthony Wiener, was a major security risk as a collector of info

— Donald J. Trump (@realDonaldTrump) August 31, 2015
Trump also issued a statement when Abedin split from Weiner this year, which was titled "Donald J. Trump Statement on Hillary Clinton's Bad Judgment":
Huma is making a very wise decision. I know Anthony Weiner well, and she will be far better off without him. I only worry for the country in that Hillary Clinton was careless and negligent in allowing Weiner to have such close proximity to highly classified information. Who knows what he learned and who he told? It's just another example of Hillary Clinton's bad judgment. It is possible that our country and its security have been greatly compromised by this
And then there was this statement on the FBI's investigation into Weiner:
The announcement by the FBI and New York Police Department that they are investigating close Clinton ally Anthony Weiner's inappropriate relationship with an under-aged female is extremely disturbing. The Clinton campaign should immediately return all campaign contributions from Weiner. America has had enough of the sleaze that is Clinton, Inc.
It's unclear yet what relevant Clinton email information could have been found in the Weiner investigation, but Trump's certainly going to have a field day with this.
[image via screengrab]
— —
Follow Josh Feldman on Twitter: @feldmaniac
Have a tip we should know? tips@mediaite.com
Josh Feldman - Senior Editor