Anti-Trump Group Files DOJ Complaint Against Comey For 'Interfering in the Presidential Election'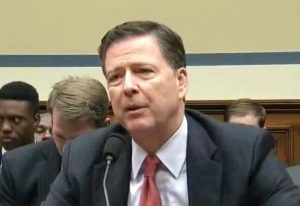 The Democratic Coalition Against Trump is, as you can guess, an organization dedicated to making sure Donald Trump is never elected to the presidency. If you head to their website — www.keepamericagreat.us — you'll find a drop-down list of press releases along the site's top shelf. Hover on that, scroll all the way down, and you'll learn that today, DCAT filed a DOJ complaint against FBI director James Comey because of his super-vague letter about Hillary Clinton, her emails, and the probe that he's not actually "reopening."
We know now that a few emails are under review because they were found while the FBI investigated Anthony Weiner for his sexting. So, the emails were not withheld by Clinton, nor were they found while she was being investigated. They are simply part of another investigation and are being checked now for classification and other things that are much more mundane than Comey's three paragraphs made it seem to many, especially in the media frenzy that followed the note's release.
That's why DCAT is filing their complaint. Read what they said about it below:
The Democratic Coalition Against Trump filed a complaint with the Department of Justice Office of Professional Responsibility on Friday against FBI Director James Comey for interfering in the Presidential election, following the FBI's decision to open up an investigation into Secretary Clinton's emails this close to Election Day. Federal employees are forbidden from participating in political activities under the Hatch Act.
Here is a quote from Scott Dworkin, who is DCAT's senior advisor:
It is absolutely absurd that FBI Director Comey would support Donald Trump like this with only 11 days to go before the election. It is an obvious attack from a lifelong Republican who used to serve in the Bush White House, just to undermine her campaign. Comey needs to focus on stopping terrorists and protecting America, not investigating our soon to be President-Elect Hillary Clinton.
Bold — and swift! — move from the coalition.
[image via screengrab]
Have a tip we should know? tips@mediaite.com