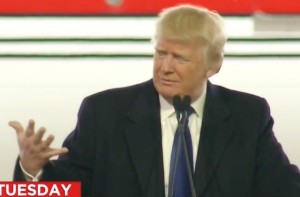 A student anti-abortion advocacy group has tweeted at Donald Trump, offering to give the candidate a refresher course on what it means to means to be "pro-life."
Students for Life is a non-profit advocacy group that bills itself as "the only national pro-life organization dedicated to training and equipping college, high school, medical, and law school students," whose stated mission is to "abolish abortion in our lifetime."
The group tweeted that the GOP frontrunner was welcome to attend one of their remedial training courses, Being Pro-Life 101. "We're here to help if he wants it!" they said.
Donald Trump could use some pro-life training: https://t.co/VuYqalvdNU
We're here to help if he wants it! pic.twitter.com/6VkRoZPhVt

— Students for Life (@Students4LifeHQ) April 25, 2016
"Donald Trump is clearly in need of education on pro-life issues," Kristan Hawkins, president of Students for Life, told TheBlaze. She pointed to a series of indiscrete remarks the GOP frontrunner has made on the subject of abortion, which were not aligned with the social conservative plank of the GOP.
He offered that women who seek abortions should be subject to "some form of punishment," though he back-pedaled those comments. He has pointed to the good work that conservative bête noire Planned Parenthood does for women's health. And last week he said on Today that he would "absolutely" seek to change the Republican platform on abortion in the case of rape, incest, or to save the life of the mother.
After his comments about changing the GOP platform, the anti-choice advocacy group March for Life issued a statement accusing Trump of potentially setting the movement back years.
"We offer hundreds of trainings a year to our students on these topics and would be happy to give Donald Trump his own personal training on why women shouldn't be sent to jail for abortions, why babies conceived through rape and incest shouldn't pay for the sins of their fathers, and why Planned Parenthood, no matter how much 'good' they do, should never be taxpayer-funded," Hawkins said, according to TheBlaze.
Have a tip we should know? tips@mediaite.com