Following Obama's Dinner With George Clooney, Romney Campaign Offers Dinner With … Donald Trump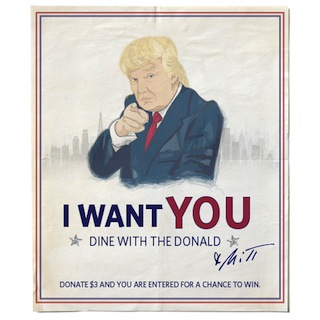 Hey, remember a few weeks ago when 30 Rock did a live episode and the people on the East Coast got to see Sir Paul McCartney be the special guest cameo while the people on the West Coast only got Kim Kardashian? Remember how that was an almost offensively big step down? Yeah, that was ridiculous. Anyway, this story isn't about that. This is about something entirely different. It's about how the Mitt Romney campaign is following up President Obama's successful dinner with George Clooney by offering a chance to dine with Donald Trump.
Yep, this is something entirely different.
Anyway, if you start throwing your money over to Mitt Romney, you can get this amazing prize:
"Donate today and you are eligible for a chance to win:

• Airport transportation in the Trump vehicle.

• Stay at the Trump International Hotel & Tower New York.

• Tour The Celebrity Apprentice Boardroom.

• Dine with Donald Trump and Mitt Romney."
It's all in the amazing new "Dine with the Donald" contest.
Unsurprisingly, the other side has already responded. BuzzFeed has this quote from DNC Press Secretary Melanie Roussell:
"Once again Mitt Romney is failing the moral leadership test. Instead of rejecting Donald Trump's 'birther' conspiracy theories and divisive attacks, he's endorsing them by campaigning and fundraising with him. Romney has shown time and again that he's not ready to have his John McCain 2008 type moment by speaking out against these types of attacks against the President. This type of false and extremely divisive rhetoric has no place in the political discourse of our country and Mitt Romney should stand up against it instead of standing with Donald Trump to raise money for his campaign."
Really? We're going to attack Donald Trump just because he was a birther? Way to throw stones from glass houses, Ms. Roussell! Did you know that George Clooney was recently arrested!
…for protesting human rights violations in Sudan. Which is…uh…kind of the same thing.
So, good job, Mitt Romney! This isn't a step down at all!
Have a tip we should know? tips@mediaite.com