After Rockettes Are Reportedly Forced to Perform at Inauguration, ArmChair Pundits Blast Union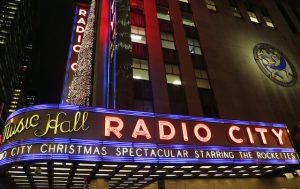 Yesterday, New York City's famous Rockettes were confirmed as performers for President-elect Donald Trump's inauguration, but it is now starting to look like the dancers themselves do not want to participate.
Yesterday, after reports broke that not a single celebrity wanted to be involved with the event whatsoever and the transition team was borderline desperate to get a big name on the ticket, Trump tweeted angrily that he didn't want any famous people there, anyway. Even from the Rockettes, who aren't necessarily individual "celebrities" themselves, the feeling is reportedly mutual.
Broadway World reports that after some of the dancers raised concerns, they received a sharp email from their union, American Guild of Variety Artists, that told them to think of the chance to perform as an honor and included a bold, underlined passage that stated the performance was absolutely mandatory for full-time employees.
BW noted that they were unable to substantiate the rumor that anyone who didn't participate would lose their job, but mentioned that the fear of termination is valid. They wrote, "In 2015 just 1.4% of people who identified their professions as 'dancers' in New York were employed full time according to the U.S. Bureau of Labor Statistics. Full-time positions such as these are hard to come by."
The harsh rebuke from the union, which dismissed "talk of boycotting" as "invalid," brushed off the "ranting" of the public that followed the performance announcement on social media. Now, social media users are continuing to voice displeasure, but this time, they're aiming straight at the union for making the Rockettes do something they don't want to do, possibly under threat of contract termination.
Trump:"I shattered the glass-ceiling for women, believe me. So let's set a president by having control of 36 women's bodies."#Rockettes

— Craig Rozniecki (@CraigRozniecki) December 23, 2016
Thank you for this, @duarteamanda. Already sent my e-mail. Everyone else please do likewise? pic.twitter.com/WOgcvaJqoy

— Patton Oswalt (@pattonoswalt) December 23, 2016
"Dance, Girl, Dance!" Union coerces F/T Rockettes 2 perform @ Trump inaug. Cuz women not being allowed to control own bodies/work normal now https://t.co/zgag4V6IT8

— Wednesday Martin PhD (@WednesdayMartin) December 23, 2016
The Rockettes will dance at the inauguration whether they want to or not because it's not a Trump event unless women are forced to do stuff.

— Hermione Manger (@OhNoSheTwitnt) December 23, 2016
The members of the Rockettes and the Mormon Tabernacle are like all of us: Forced to go along with something horrible they didn't choose.

— George Takei (@GeorgeTakei) December 23, 2016
Either u stand with women in Rockettes or u don't. No need to argue with me. I 100% stand with the woman who refuse to dance for trump

— (((DeanObeidallah))) (@Deanofcomedy) December 23, 2016
Wonder if trump will walk through Rockettes dressing room to inspect them like he did with his beauty pageant?

— (((DeanObeidallah))) (@Deanofcomedy) December 23, 2016
I know we're going full dystopian but the Rockettes being forced to dance at inauguration at risk of termination is a liiiittle on the nose

— Kendra W ✨ (@kendrawcandraw) December 23, 2016
One post circulating on Facebook advises the dancers that if they are forced on-stage, they should "be a part of history" and "take a fucking knee." The poster assures them they'll set up a GoFundMe for anyone who gets fired, but remember: these women have trained their entire lives to enter a field that has a 1.4% full-time employment rate. Now that the union has put its foot down, it will be hard to convince them to take a knee. Legal action agains the union, which has also been suggested multiple times across social media, is likely the only way they'll get out of the performance.
UPDATE: 3:18 p.m. EST: MSG has put out a statement saying that participation in the inauguration is voluntary.
[image: screengrab]
Have a tip we should know? tips@mediaite.com