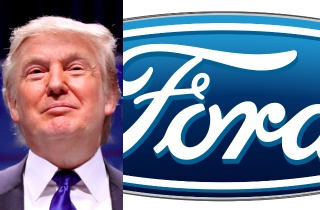 It should come as absolutely no surprise by this point of the campaign cycle that GOP frontrunner Donald Trump often shoots from the hip. He can speak in some sweeping generalities, so it isn't always easy to keep track of what's true and what's not. The Ford Motor Company however has found grievance with one particular Trumpian Tweet that went out Sunday afternoon:
Word is that Ford Motor, because of my constant badgering at packed events, is going to cancel their deal to go to Mexico and stay in U.S.

— Donald J. Trump (@realDonaldTrump) October 25, 2015
The issue of domestic v. international car production is one that Trump has brought up on the campaign trail before. Trump appears to have gotten his information from a falsely-reported story by a publication known as "Printly", which reportedly mused that "struggling Youngstown, Ohio" would be receiving a Ford motor plant with an estimated value of $2 billion. Trump seems to have used it to his advantage, anyway.
However, The Washington Post writes, "Christin Tinsworth Baker, a spokeswoman for Ford, confirmed in an e-mail to The Washington Post that, no, the company had not abandoned plans to build facilities in Mexico."
Of course, Trump went on and figured out how to spin the Ford ordeal into a political talking point to benefit his campaign for the Presidency.
Do you think I will get credit for keeping Ford in U.S. Who cares, my supporters know the truth. Think what can be done as president!

— Donald J. Trump (@realDonaldTrump) October 25, 2015
The Ford statement reads:
Ford has not spoken with Mr. Trump, nor have we made any changes to our plans. We decided to move the F-650 and F-750 medium-duty trucks to Ohio Assembly in 2011, long before any candidates announced their intention to run for U.S. President. We are proud that Ford has invested $10.2 billion in our U.S. plants since 2011 and hired nearly 25,000 U.S. employees. Overall, more than 80 percent of our North American investment annually is in the U.S., and 97 percent of our North American engineering is conducted in the U.S.
Check back with Mediaite as we cover the CNBC Republican Debate Wednesday night to see if Trump responds to Ford with some sort of ridicule that will invariably raise his poll numbers.
>> Follow J.D. Durkin on Twitter (@MediaiteJD)
This is an opinion piece. The views expressed in this article are those of just the author.