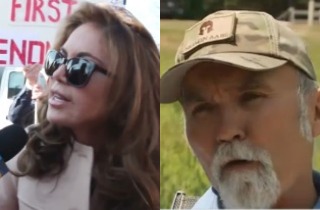 In spite of the violence and controversy surrounding the two "Draw Muhammad" cartoon contests last month, a New Hampshire ex-marine announced another one on Saturday. Jerry DeLemus told a CBS local affiliate that he is unconcerned about any potential risks to his event, saying "it's more important to defend our way of life in this country, our constitutional rights, for everybody."
DeLemus stated that he was inspired by Pamela Geller, the organizer of the contest in Garland, Texas that came under attack by ISIS-inspired jihadis. Geller reportedly emailed the Boston Herald on Sunday, praising DeLemus and wishing him success despite saying that she won't be able to appear there herself. "I am glad to see other Americans organizing these events," Geller said. "Millions of Americans will not relinquish our freedoms to devout savages. I stand with them and for them."
When asked about the insulting connotations his contest would have for Muslims, DeLemus said that so far he has he has only been urged local residents to not go through with it. "If they're offended, welcome to America," DeLemus said. ""If we back away from our freedom as citizens a little bit at a time, the next thing you know, we don't have any freedoms left."
DeLemus said his event will discourage illustrations meant to be deliberately obscene, but is undaunted by the possibility that some Muslims will find any depiction of the prophet as blasphemous:
"My purpose is just to shine a light on what's really going on in our country, and how we as a country are willing to give up our rights of expression when someone threatens to kill us, and how wrong that really is."
DeLemus is currently looking for a venue to accommodate his planned contest for August, as well as the security force he intends to employ. Safety has been an enduring issue for the previous contests as well. The terror suspect who was recently shot in Boston had plans to behead Geller for her contest, and the host of the contest in Arizona went into hiding with his family, fearing for his safety.
[h/t WGME]
[Image via Screengrab/CBS DWF]
— —
>> Follow Ken Meyer (@KenMeyer91) on Twitter
Have a tip we should know? tips@mediaite.com