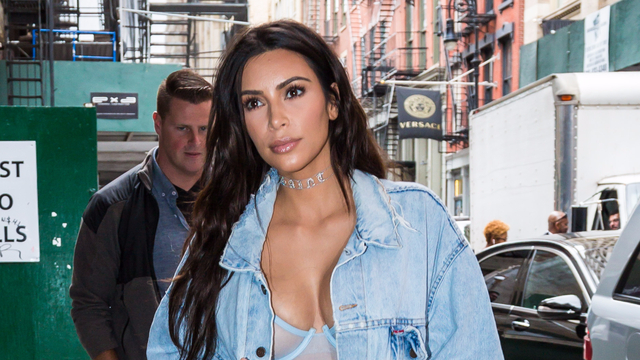 Kim Kardashian revealed on Sunday's episode of Keeping Up With The Kardashians that she'd like to have another baby. "I want my kids to have siblings," she said, "but the doctors don't think it's safe for me." Each of her first two pregnancies were difficult, and a source told Us Weekly, "Having a kid would jeopardize Kim's health incredibly. Doctors have told her no."
For some reason, people felt the need to comment on this, including Mitt Romney's top strategist from his 2012 presidential campaign, Stuart Stevens:
Sometimes it seems the Chinese might have been on to something. https://t.co/2pNA590W9L

— stuart stevens (@stuartpstevens) March 29, 2017
Stevens' comment appears to be in reference to China's one-child policy. Twitter users started responding, and spoiler alert: What they had to say wasn't pretty:
@stuartpstevens Oh! Are we being unnecessarily mean today? I'll have a go: Stewart, you look like a blurry photo on tv for some reason.

— Felicia Freitas (@FeeFieFoeFume) March 29, 2017
@stuartpstevens this tweet is literally the only thing I know about you and what it actually says is that you're a pretty terrible person.

— RadicalCatFamily (@snowsandals) March 30, 2017
@stuartpstevens Said just like an entitled white guy who thinks he gets to decide what is best for anyone/everyone else. #Skeezebag

— Courtney Wright (@courtne97293916) March 30, 2017
@stuartpstevens Why would possess you to say something like this? I'm not a @KimKardashian Fan but COME ON! You're better than this.

— Michelle (@decolover61) March 30, 2017
@stuartpstevens how shitty do you have to be to say something about a person who literally doesn't effect your life?

— ?Sara Jetlag ? (@SaraJetlag) March 30, 2017
Then, Kardashian's friend and all-around awesome guy John Legend came to her defense too:
@stuartpstevens that was pretty awful. Shame on you

— John Legend (@johnlegend) March 29, 2017
Keep your tweets off Kim Kardashian's uterus.
[image via Liam Goodner / Shutterstock]
Have a tip we should know? tips@mediaite.com