Fox News' Martha MacCallum Receives Praise For Kavanaugh Interview: Pressing Him 'More Than I Would Have Guessed'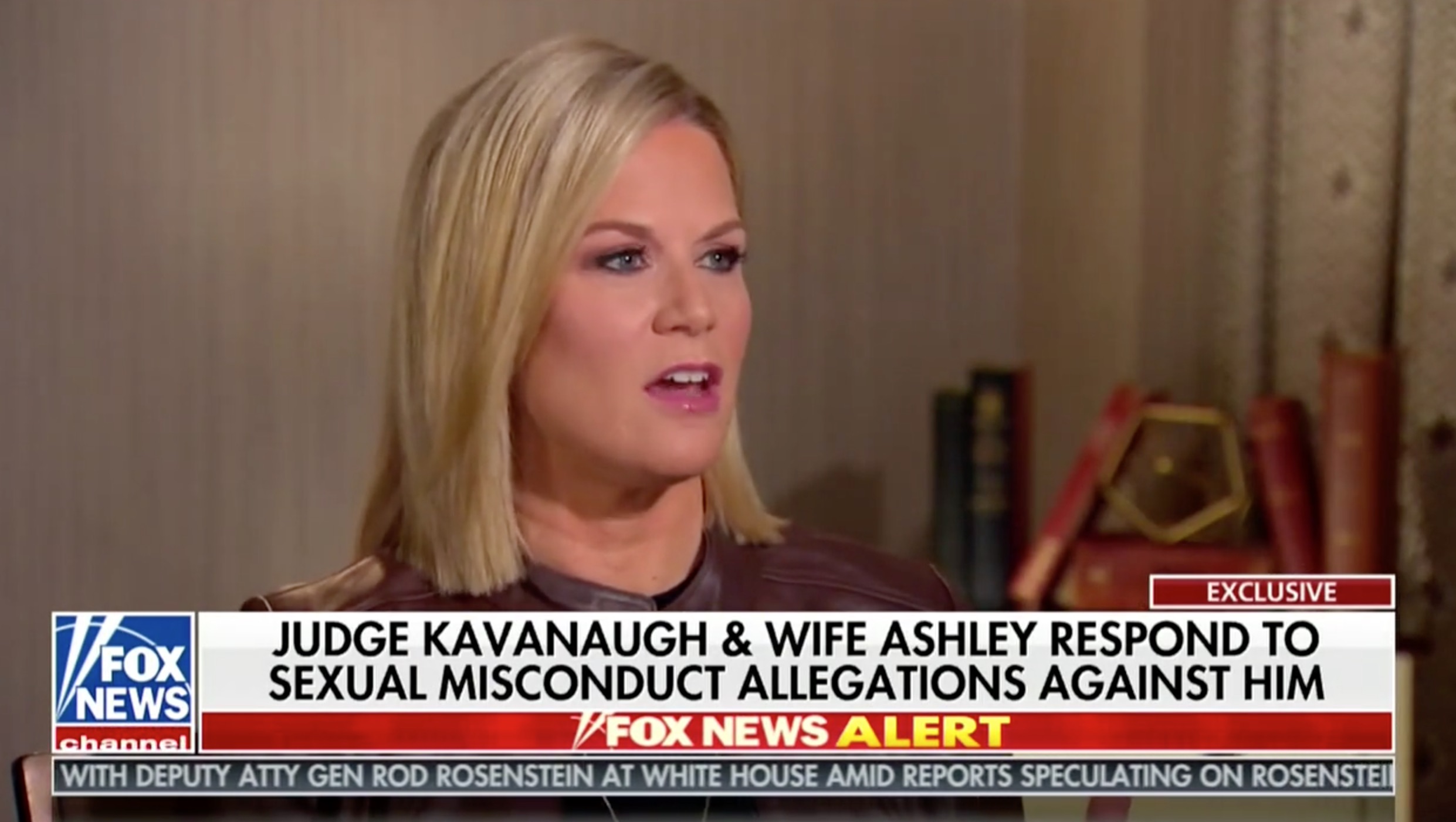 On Monday night, Fox News anchor Martha MacCallum was widely praised for her sit-down with Supreme Court nominee Judge Brett Kavanaugh.
Her interview with the judge was his first televised interview since the first sexual misconduct allegation surfaced almost two weeks ago. MacCallum specifically pressed him on claims made by Dr. Christine Blasey Ford, Deborah Ramirez, as well as the allegations being publicized by Michael Avenatti. Kavanaugh denied any wrongdoing.
While Twitter remains divisive on Kavanaugh, there seemed to be a consensus on MacCallum's interview performance.
anyone watch that and think MacCallum tossed softballs? I do not. very tough. MacCallum has been clear in her criticism of Sen. Hirono's presumption of innocence flap and that showed, but otherwise I think Kavanaugh did not do himself many favors by sitting through that

— J.D. Durkin (@jiveDurkey) September 24, 2018
Martha MacCallum is pressing Kavanaugh more than I would have guessed.

— Brian Fallon (@brianefallon) September 24, 2018
Agreed. I thought @marthamaccallum did a good job with the interview, pressing Kavanaugh on the comments made by his roommate at Yale, who said he believes Ramirez's allegations and that Kavanaugh often became "incoherently drunk." https://t.co/ZT1Kd9qSbJ

— Rob Tornoe (@RobTornoe) September 24, 2018
Probably more robotic than his handlers would've liked, but he was very well coached.

Also: By Fox News standards, Martha MacCallum did a good job. Too bad he wouldn't answer her best questions.

— Mark Joseph Stern (@mjs_DC) September 24, 2018
.@marthamaccallum is asking every possible question.
And Kavanaugh is answering each one with principled conviction.
And every one of us who has ever feared a false accusation can see that.

— Father Dan Beeman (@inthelineofmel) September 24, 2018
Remember, the women must be honored unless they're @marthamaccallum playing it straight in an interview.

— Erick Erickson (@EWErickson) September 25, 2018
Good lines of questioning from @marthamaccallum in this Kavanaugh interview.

— Caitlin Huey-Burns (@CHueyBurns) September 24, 2018
This Fox interview was a bad idea on several levels. Hurt the cause more than it helped. Raised more questions than it answered.

— Dan Pfeiffer (@danpfeiffer) September 24, 2018
.@MarthaMacCallum is asking Kavanaugh about every specific allegation, incl Avenatti's (he says totally false & outrageous). Those who predicted otherwise were wrong

— HowardKurtz (@HowardKurtz) September 24, 2018
[image via screengrab]
Have a tip we should know? tips@mediaite.com