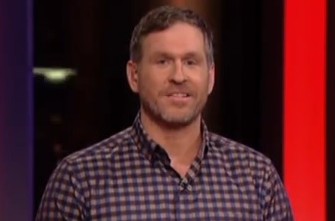 Fox News faced criticism Tuesday after inviting on a professional troll and date rape apologist as a guest last week, even as the network is embroiled in a sexual harassment lawsuit.
Donald Trump supporter Mike Cernovich was a guest on Red Eye to defend the Trump campaign and blast Paul Ryan. "I love this guy…" host Tom Shillue told viewers. "I love the hell out of the guy, and we're probably going out after the show and have drinks."
But Cernovich is also a vocal anti-feminist and proponent of the notion that date rape does not exist. He's also made many controversial tweets on the topic of rape.
Have you guys ever tried "raping" a girl without using force? Try it. It's basically impossible. Date rape does not exist.

— Mike Cernovich (@Cernovich) August 12, 2012
Not being a slut is the only proven way to avoid AIDS. If you love black women, slut shame them. https://t.co/e3NUaTUZvD

— Mike Cernovich (@Cernovich) February 5, 2016
A whore will let her friend ruin your life with a false rape case. So why should I care when women are raped? http://t.co/eUsQtLiv

— Mike Cernovich (@Cernovich) January 30, 2012
The hotter the sex, the more closely it resembles rape.

— Mike Cernovich (@Cernovich) October 15, 2011
Fat/ugly women seek out dominant men to abuse them. Then they seek sympathy from others. "He's so mean.". Hence why women troll Twitter.

— Mike Cernovich (@Cernovich) July 2, 2014
Coincidentally, Cernovich himself was once accused of rape while in college (he beat the charges).
When Cernovich's appearance was first noted by the Daily Beast, they reached out to other conservatives to get their reaction. "Are you serious?" RedState editor Ben Howe responded. "He was a guest on f*cking Red Eye? They're giving this motherf*cker legitimacy? Oh my god!"
"You've got to be kidding me. He's a nutcase," said radio host Ben Shapiro.
In a statement to the Daily Beast, Fox News said that Red Eye producers did not know about Cernovich's history and that he would not be appearing on the show again.
[Image via screengrab]
——
>>Follow Alex Griswold (@HashtagGriswold) on Twitter
Have a tip we should know? tips@mediaite.com