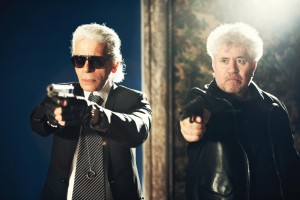 Spanish filmmaker Pedro Almodovar exploded onto the international cinema scene with his 1988 feature-length comedy Mujeres al borde de un ataque de nervios (Women on the Verge of a Nervous Breakdown), and quickly became arguably the most important Spanish filmmaker of his time. Since then, Almodovar has won two Oscars (in 1999 for Best Foreign Film (All About My Mother) and in 2002 for Best Original Screen Play (Talk to Her).
An artist that is always thoughtful of fashion in his cinematic work (it is difficult to forget how incredibly beautiful Penelope Cruz looked in both Volver and Broken Embraces), Almodovar has caught the attention of major fashion magazines in the last few months, first with a 14-page feature in the December/January issue of French Vogue, and, now, the March issue Harper's Bazaar.
In The Mode of Almodovar, Jason Schmidt shot fashion greats in recreated scenes from some of Almodovar's most eminent works. Styled by Katie Mossman, the shoot features Jean Paul Gaultier, dressed as a nun, a la Dark Habits, Karl Lagerfeld standing, pistol in hand, with the director, a nod to Life Flesh, and Angela Missoni, dressed in a purple cardigan and plaid skirt, both Missoni, bloody knife in hand, inspired by a scene from Volver.
The use of color is unquestionably Almodovar: In one shot, Yves Saint Laurent muses Loulou de la Falaise and Betty Catroux lounge in a beautifully bright room, de la Falaise in a bright pink Oscar de la Renta skirt. In another, Sonia Rykiel stands with her daughter against a pool blue background in an orange rabbi fur coat.
The story epitomizes what Bazaar has always done so well. It takes a subject matter, in this case Almodovar's films, and immerses it in fashion – actively engaging the clothing, designer, and Almodovar with one another, putting the designer in the spotlight in creative ways, showing their personality and personal style.
Photographs courtesy of Harper's Bazaar, Shot by Jason Schmidt, Styled by Katie Mossman.
Have a tip we should know? tips@mediaite.com