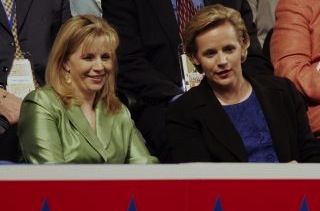 Fresh from cleaning out his Twitter mentions column, New York Times' Jonathan Martin has been assiduously tracking the growing public rift between sisters Liz and Mary Cheney over same-sex marriage, and wrote Monday morning that the sisters have not spoken since the summer, a marked change from their formerly close relationship.
Yesterday on Fox News Sunday, Wyoming senatorial candidate Liz Cheney publicly opposed same-sex marriage. Her sister, who married her longtime girlfriend Heather Poe in 2012, responded on Facebook with, "Liz – this isn't just an issue on which we disagree, you're just wrong – and on the wrong side of history."
This was the second time the younger Cheney has spoken out against gay marriage, and the second time her sister has publicly rebuked her.
In a phone interview with Martin, Mary Cheney said she was genuinely surprised when her sister came out against same-sex marriage in August, believing she shared her father's beliefs. "What amazes me is that she says she's running to be a new generation of leader," Cheney said. "I'm not sure how sticking to the positions of the last 20 or 30 years is the best way to do that."
Poe was less restrained in her criticism of Liz on Facebook. "I can't help but wonder how Liz would feel if as she moved from state to state, she discovered that her family was protected in one but not the other," Poe wrote on her wall on Sunday. Liz Cheney is battling back carpetbagger accusations, as she just moved to Wyoming last year. "Yes, Liz, in fifteen states and the District of Columbia you are my sister-in-law."
Caught between them is Dick Cheney, who publicly endorsed same-sex marriage despite having served as vice president under a chief executive who opposed it. Cheney has actively supported his daughter's campaign, even though she's running against incumbent Mike Enzi (R-WY), a longtime Cheney friend. Cheney now disputes that the two are "fishing buddies."
[h/t NYT]
[Image via Getty]
——
>> Follow Evan McMurry (@evanmcmurry) on Twitter
Have a tip we should know? [email protected]