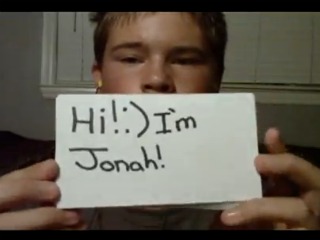 Back in August of this year, a teen named Jonah Mowry created a video to share on YouTube. It was the summer before eighth grade, and Jonah wanted to let the classmates who had antagonized him for years know that he wasn't going anywhere.
The video soon went viral, with (now) over five million strangers and loved ones across the world getting a little glimpse at a crucial turning point in Jonah's life.
Four months later, he posted an update:
To all my friends and supporters,

I made this video 4 months ago just before school was about to start. I was 13. It was a very emotionally dark time in my life. I made the video at 4:00am in the morning; I hadn't been sleeping at night for a long time, too many things going on in my head. I was dreading going back to school and I had not come out to my family yet. Only my closest friends knew. I didn't know how to say what I needed to say. All I could think about were all the bad things that had been happening at school last year, every year for that matter. I just couldn't bare to go through that anymore. I was done being fake happy, pretending hateful words didn't hurt, done hiding it from my family.

So this video was made for my friends that had moved on to High School who were worried for me, to say to them that I was going to take a stand, and to the haters at my middle school that I'm not going anywhere. I am who I am. I posted the video here and told people were to find it. That was it.

My friends were moved by the video and thought I did something important. I was encouraged to upload it to my Facebook page so more people could see it. Maybe it could help someone else going through the same thing. So I linked it Dec. 1st. My Parents saw it for the first time Dec, 2nd.

Then….. all this happened.

I never expected in a million years that it would have such a wonderful impact on so many people. I am truly humbled and truly thankful for all the love, encouragement and support from people all over the world. It's been incredibly overwhelming. I don't know what to say. Thank you so, so much!

Lastly, yes you have seen me happy in a couple short videos replies I posted; I would think that would be a good thing, and yes I do have friends, my High School friends, and I have made friends because when I came out they realized that they had hurt me and that they fealt sorry. The video is real, and true.

In the last few months everything eventually came out in the open, I felt a huge weight off my shoulders; I'm happy, I'm excepted for who I am, I'm more confident and feel stronger every day.

Thank you all, Love and peace to all who are hurting.
Jonah Mowry
Jonah's mother recently told ABC News that all the attention her son's video has garnered has been something of a mixed bag, bringing it with it countless messages of support and encouragement in addition to insults and criticism, including accusations that the video is a "fake."
In response, Jonah — appearing much more upbeat and in the company of a friend — posted a new, "update" video two days ago. You can watch it on YouTube. "Thank you for everyone who's being nice," he said. "And to the people who are being mean and calling me gay: Um, thank you for stating the obvious." Oh, Jonah!
Jonah's original video appears below:
Have a tip we should know? [email protected]