Trump Fires Back! Tells Laura Ingraham Huntsman's Anatomy Comment Was 'Disgusting'
Trump Fires Back! Tells Ingraham Huntsman's Anatomy Comment Was 'Disgusting'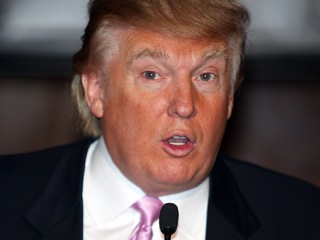 The Donald Trump debate brawl between the reality TV titan and apparently everyone else on the American right (except Newt Gingrich?) continued full steam ahead today, as Mitt Romney declined the debate invitation and Ed Rollins joined in on the Trump-bashing. Not one to be left behind, Trump joined Laura Ingraham on her show today to blame Karl Rove for single-handedly guaranteeing a victory for President Obama and call Jon Huntsman's quip that he wouldn't kiss "any part of his anatomy" "sort of disgusting."
RELATED: Donald Trump Hits Back: Charles Krauthammer, George Will And Karl Rove Are 'Political Hacks'
Ingraham began the interview by asking about Rove, who Trump could not express more disdain for. "What did he do? He gave you Bush and he and Bush crashed and burned– and, to be honest, Laura, nobody could have won that election," he said of Rove and the 2008 election, suggesting that the damage done under Rove's watch made a Republican victory impossible. He goes on to call Rove a "political hack" and attack Charles Krauthammer because "he doesn't know what he's talking about." "I don't even know this guy," he exclaims of Krauthammer, before turning again to Rove and concluding that "Karl Rove gave us Obama."
Ingraham then turned to Huntsman's comments yesterday that he was "not going to kiss [Trump's] ring, and I'm not going to kiss any other part of his anatomy." "Well first of all, I think it is sort of a disgusting statement and, you know, I am surprised that it comes out of his mouth. And second of all, I am not allowed to run because of the equal time provisions." The latter sentiment was to explain why he hadn't run for president in the Republican ticket, a choice that Huntsman had argued demonstrated a lack of "courage." Ingraham pressed Trump on why he hadn't left The Apprentice for a run for office, flatly asking whether he considered the future of his country more important than the future of his TV show. "We both know the answer to that question," he replied, though insisting that leaving the show was a difficult decision, and that the regulation that forced him into that choice was unfair.
RELATED: Karl Rove Has Had It With The Donald Trump Debate: 'This Is Not A Newsman'
Trump concluded by once again noting that he thought his debate would be a "very, very highly-rated debate" because "everybody's talking about this debate," and that he didn't know for sure, but believed Romney would show (the interview occurred before Romney declined the invitation). Romney declining the invitation puts the existence of the debate definitively in peril, however, though one can expect Trump's bravado will not let down because of potential setbacks.
The audio from Ingraham's show below:

Have a tip we should know? [email protected]