George Will: Obama 'Cut Class' At Harvard When They Discussed Separation of Powers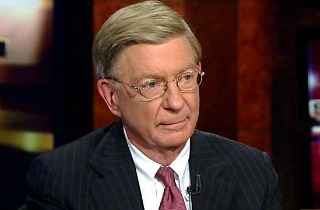 In an interview with National Public Radio, conservative columnist and Fox News Channel contributor George Will took a shot at President Barack Obama and a slew of Beltway pundits who have lamented that the federal government is unwieldy and not functioning. Will said that this is the essence of the "Madisonian scheme." He added that Obama must have skipped class at Harvard when they discussed the separation of powers in the Constitution.

"This is the Madisonian scheme," Will said when asked if he agreed with Obama who has suggested that Congressional Republicans are attempting to alter what the Constitution dictates will be each branch's role in government.
"Each institution shall be the jealous asserter of its prerogative and try to maximize its power," he continued. "I sometimes think that, when he was at Harvard Law School, Mr. Obama cut class the day they got to the separation of powers. Because he seems to consider it, not just an inconvenience, but an indignity that although he got 270 electoral votes and gets to be president, he didn't get everything."
RELATED: Why Paul Ryan's Move to Isolate the Ted Cruz Wing of the GOP Could Backfire
Will said that the federal government is "supposed to be" resistant to action and prone to stalemate. "People look at Washington and say, 'Oh, gosh, this is so difficult.' It's supposed to be difficult," Will added.
"I hear Democrats say 'the Affordable Care Act is the law,' as though we're supposed to genuflect at that sunburst of insight and move on," he continued. "The Fugitive Slave Act was the law. Separate but equal was the law. Lots of things were the law and then we change them."
This being said, Will took aim at the Republicans in Congress who manufactured a government shutdown in order to reform the Affordable Care Act. "A tactic is supposed to have at least an articulable path to victory and success, and I don't see it," Will added.
Listen to the segment below via NPR:
h/t NPR
[Photo via screen grab ]
— —
> >Follow Noah Rothman (@NoahCRothman) on Twitter
Have a tip we should know? tips@mediaite.com