German Mayor's Advice to Girls Harassed By Migrants: 'Just Don't Provoke Them'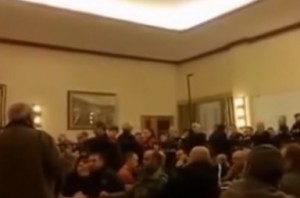 A small town council meeting turned into a microcosm of the highly contentious German debate over Middle Eastern asylum seekers when the major suggested that women avoid sexual harassment by avoiding migrants and not "provoking" them.
In a video posted to YouTube, an elderly man claims that his ten-year-old granddaughter was facing harassment walking to her school gym, which is near a refugee center. "They get harassed from the windows and things like that. How will this be in the summer, when the school girls wear less clothing?"
"That's easy, just don't provoke them and don't walk in these areas," Bad Schlema Mayor Jens Müller told him.
Watch below:
Predictably, the mayor's comments did not go over well and prompted an outpouring of jeers. "In your own country!" the man behind the camera exclaims. "You can't even walk in your own city anymore!"
"Well, it's technically not necessary for the girls to walk there," he tried to explain to the angry crowd. "There are alternative routes for going to school."
Müller tried to calm the crowd down, and even threatened to call the police. According to German media reports, the council meeting was being protested outside by 100 members of the Neo-Nazi Democratic Party of Germany.
The already contentious debate about taking in Syrian refugees exploded in January after a group of over a thousand men of "North African and Arab heritage" went on a sexual harassment and robbery spree in the German city of Cologne on New Year's Eve. Cologne's mayor prompted her own controversy when she suggested in response that women follow a "code of conduct" to avoid assault.
[h/t Breitbart]
[Image via screengrab]
——
>>Follow Alex Griswold (@HashtagGriswold) on Twitter
Have a tip we should know? tips@mediaite.com