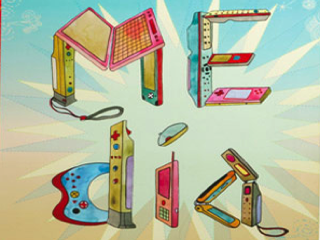 It is a rare instance in which the Girl Scouts find themselves the targets of partisan sniping– or even the most benign political criticism, to be fair. So today's report on The Blaze accusing them of left-wing bias was a jarring one to find, at first. But in looking closer, the Girl Scouts have a lot of explaining to do: in a book on media misinformation intended for children aged 6-8, the tell children a good resource to help fight misinformation is the liberal criticism site Media Matters.

RELATED: Who Knew? Executives At Watchdog Entities Media Matters And MRC Make A Lot Of Money
The Blaze broke the story of the book MEdia, directed at young Girl Scouts in their learning of information through the web. The book is intended for girls aged 6-8 and is advertised as a guide for young media consumers on how to be mindful of the possible corroding influence of media around them. It's authors are Wendy Thomas Russell and Sarah Goodman, and the subsection of the Girl Scouts responsible for this is the Healthy MEdia Commission, whose mission statement notes it intends to help in "convening the first National Dialogue on healthy images of women and girls in the media, and gaining an industry-wide commitment to promote positive media images."
In a "Sound Bite" segment on the bottom of a page ironically entitled "Consider the Source," the book suggests to its readers to be mindful of the information they hear, and to double-check it with sources they can trust. The source the book indicates is trustworthy? Media Matters for America:
The Internet is a breeding ground for "urban legends," which are false stories told as if true. Next time you receive a txt or e-mail about something that seems unbelievable, confirm it before you spread it.

The fact-checking site snopes.com investigates everything from urban legends to "news" articles and posts its findings. Media Matters for America (http://mediamatters.org/) gets the word out about media misinformation.
Here is the page (via The Blaze):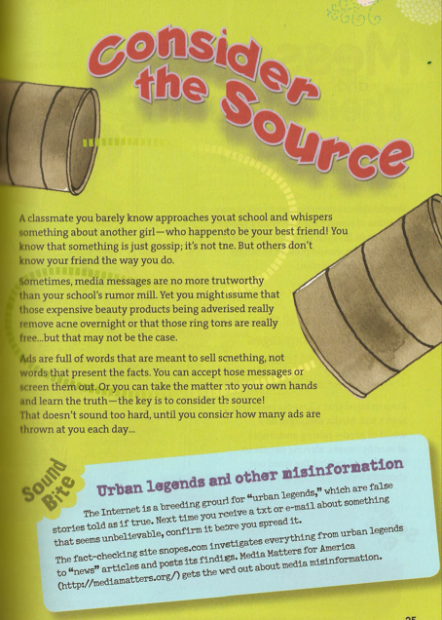 For liberal readers who don't understand the outrage, is something akin to referring 1st through 4th graders to Hannity as an impartial news source taking down "urban legends" because Fox News is "Fair and Balanced."
The book is still on sale, though The Blaze contacted the Girl Scouts about this error and received the response that they were aware of the controversy and planning to reprint the book this month. The book is, however, still on sale.
Media Matters itself doesn't appear to have much of any role in this ordeal, nor should the outrage really fall upon their shoulders no matter how tempting some on the right may find taking shots at them.. They are fully entitled to be the operation they are: a media commentary site with a far-left bent so transparent and indisputable that it is widely considered a badge of honor in conservative circles to find oneself in their crosshairs. The beauty of America is that they can be what they are without trying to hide it– though they often do and, sadly, it appears to work with those as uninformed as the writers of this Girl Scout handbook. But for anyone, right or left, to indict Media Matters for practicing their natural right to freedom of expression, haranguing and grating as it may be sometimes, rather than blame this on the people writing this book, is unfair to both Media Matters and to the children potentially hurt by this embarrassment.
RELATED: Juan Williams: Media Matters 'Ruins People's Lives' Over Political Disagreements
Media Matters aside, there is a serious question here as to whether children as young as six should be taught about media misinformation at all, as if they were independent consumers of media without having parents to guide their viewing. The Blaze gives the entire "MEdia" operation a bit of a pass, suggesting that such a thing could be a "valuable tool" for young readers to decipher media messages. And sure, young readers need guidance wherever they can find it (I'll never forget getting Bernie Goldberg's Bias as a birthday present when I was 13!). But how young is too young, and is it really the Girl Scouts' responsibility to teach children about media bias? One would assume that leadership skills and love of nature would be higher on the list that whether today's President Obama segment on Fox & Friends was accurate or not. Not to mention that their historical complete lack of work in this area shows rather starkly if they think Media Matters is an impartial observer of politics.
Have a tip we should know? tips@mediaite.com