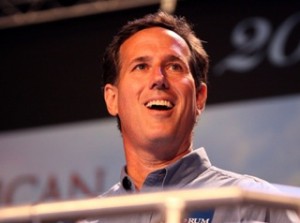 A new CNN poll has Rick Santorum roaring back back from the bottom of the GOP pack to 16% in Iowa. Virtually everyone in the Republican field has had their moment in the sun, except for the former Pennsylvania Senator, until today.
RELATED: Rick Santorum Promises To 'Pack Up And Go Home' If He Is 'Dead Last' In Iowa
In CNN's new poll, Mitt Romney is the new frontrunner at 25%, Ron Paul is at 22% and out-of-nowhere, Santorum has leapfrogged to third at 16%.
CNN political writer Paul Steinhauser notes that "Santorum is campaigning on a shoestring budget, but he's visited all of Iowa's 99 counties and has made a strong pitch towards social conservative voters."
"Most of Santorum's gains have come among likely caucus participants who are born-again or evangelical, and he now tops the list among that crucial voting bloc, with support from 22% of born-agains compared to 18% for Paul, 16% for Romney, and 14% for Gingrich," according to CNN Polling Director Keating Holland.
Red State's Ed Erickson is not happy by this new development:
Santorum has no money or organization outside of Iowa and cannot win the nomination, but Iowans love a guy who sucks up to them and makes sure they know he loves the babies.

As a pro-lifer myself, I have to throw up a bit in my mouth that Iowa conservatives are seriously considering Rick Santorum, which will only help Mitt Romney, a guy who even after his supposedly heartfelt conversion to life put some seriously pro-abortion judges on the Massachusetts bench hiding behind the "Well it was Massachusetts for Pete's sake" defense…

Rick Santorum is more conservative than Mitt Romney. He is a strong social conservative and has taken a lot of bullets from the left because of his stand. But he is not as strong a fiscal conservative as he claims and the real issue here is social conservatives in Iowa risk Mitt Romney's election by supporting a guy who cannot get traction or money outside of Iowa.

Rick Santorum will not be the nominee. That's the reality. But his rise hurts Bachmann, Gingrich, and Perry in Iowa — all of whom have better organizations and better shots beyond Iowa.
Santorum's recent success also drew Meghan McCain's attention:


(h/t CNN)
Have a tip we should know? tips@mediaite.com