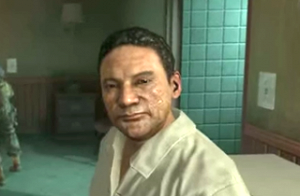 For some reason, Manuel Noriega, the former paramilitary dictator of Panama convicted of murder and money laundering, decided to sue video game company Activision for depicting him as a murderer and money launderer in Call of Duty: Black Ops. To defend themselves, Activision has hired former NYC mayor Rudy Giuliani as co-counsel. It doesn't get better than this. This is like the Mad Libs of news.
Giuliani announced in a press release that he was taking on the case, arguing that Call of Duty was entitled to use Noriega's likeness under the First Amendment, due to his public profile and his status as a historical figure. Should the courts side with the 80-year-old Noriega, Activision argues that it would produce a "chilling" effect on works of art, as it would "give numerous historical and political figures — and their heirs — a veto right over their appearances in works of art."
And Giuliani pointed out Noriega's perceived hypocrisy:
"What's astonishing is that Manuel Noriega, a notorious dictator who is in prison for the heinous crimes he committed, is upset about being portrayed as a criminal and enemy of the state in the game 'Call of Duty. Quite simply, it's absurd…Noriega's attack on the rights of Call of Duty comes as no surprise considering he's a lawless tyrant who trampled over the rights of his own people."
Noriega is currently serving out the third of three sentences in three different countries.
[Kotaku]
[Image via screenshot/Activision]
—
>> Follow Tina Nguyen (@Tina_Nguyen) on Twitter
Have a tip we should know? tips@mediaite.com