'Glasses Are For Cucks': Twitter Reacts to Trump Staring Directly At Solar Eclipse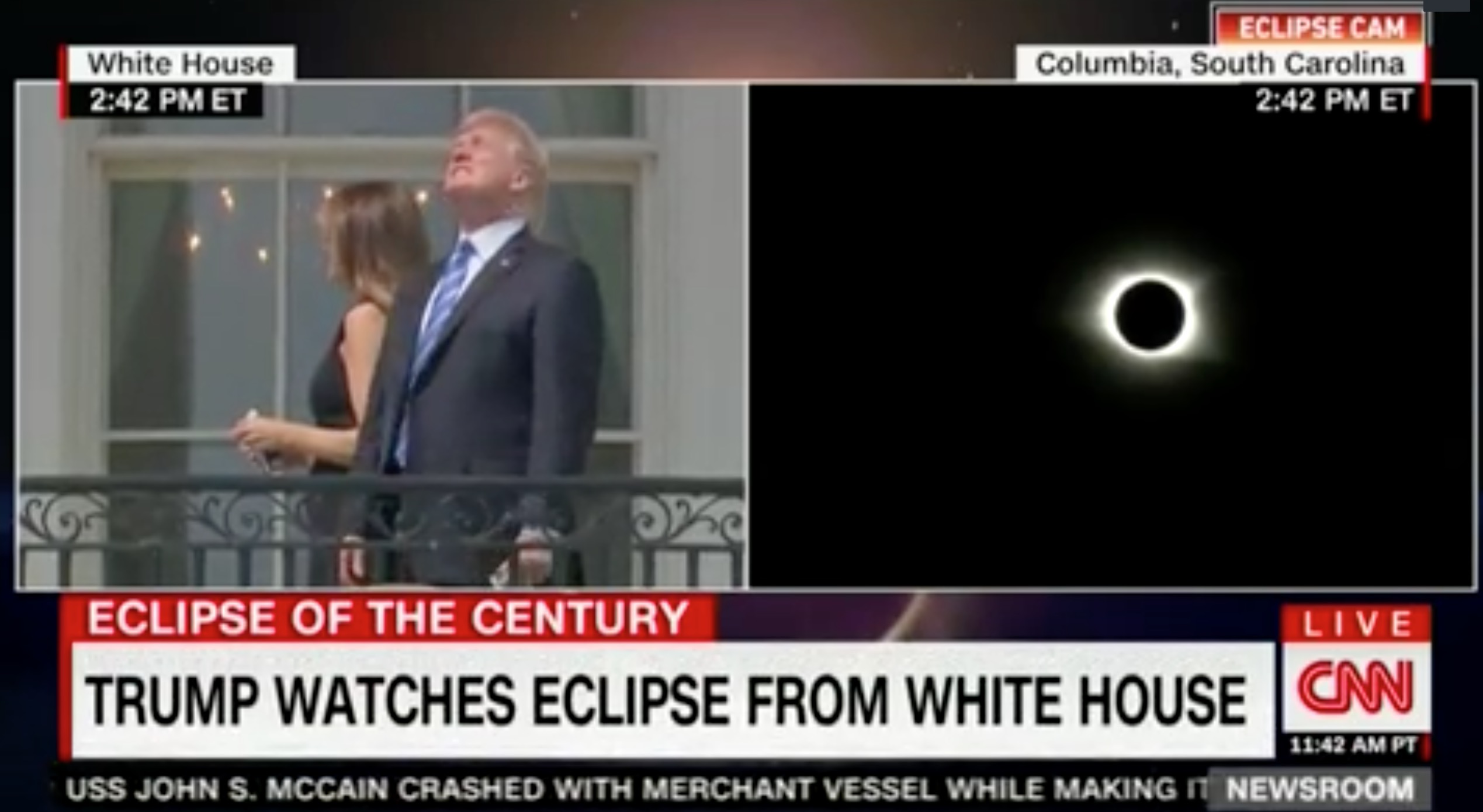 Americans across the country enjoyed the solar eclipse on Monday — and President Donald Trump and First Lady Melania Trump were no exception. They were seen standing outside the Truman Balcony of the White House to take in the rare natural event.
Twitter latched onto Trump's cameo during the solar eclipse coverage as the president appeared to stare directly into the sun without any eye protection — a risky move given the dangers of solar radiation. An aide shouted at the president "don't look!" as he gazed up into the sky, according to the Wall Street Journal's Ted Mann.
Check out the best Twitter reactions to Trump defying NASA's eclipse safety warnings below:
The Trumps take in the view. (AP) pic.twitter.com/5DKcz3bAw9

— Philip Bump (@pbump) August 21, 2017
When the aliens are coming. pic.twitter.com/0SIgGHHnKg

— Matt Fuller (@MEPFuller) August 21, 2017
a subtle, protective eyewear-less thumbs up for the moon and the sun's good work today pic.twitter.com/UETtgNeYNx

— Haley Byrd (@byrdinator) August 21, 2017
In this moment, he became president pic.twitter.com/mQNrG7LlsP

— Josh Billinson (@jbillinson) August 21, 2017
i am so proud of you sir no one tells trump what he can safely look at pic.twitter.com/3xd3M6Qbwr

— Kilgore Trout (@KT_So_It_Goes) August 21, 2017
As he did this, someone in a crowd of aides below shouted "Don't look." pic.twitter.com/dtfSLEzcAZ

— Ted Mann (@TMannWSJ) August 21, 2017
Glasses are for cucks pic.twitter.com/SLrLGCjwrg

— Allahpundit (@allahpundit) August 21, 2017
In DC, the eclipse looks like @realDonaldTrump's hair pic.twitter.com/pQyCnHVrFa

— Vince Coglianese (@TheDCVince) August 21, 2017
Most adorable eclipse photo goes to… Jeff Sessions pic.twitter.com/9w4GtWRfnV

— Joe Perticone (@JoePerticone) August 21, 2017
[image via screen grab]
Have a tip we should know? tips@mediaite.com