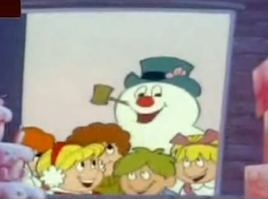 Who would have thought that frequent O'Reilly Factor guest Bernie Goldberg and Mediaite's Rachel Sklar would find common ground? But find common ground they did, over a raunchy snowman.
"Frosty the Inappropriate Snowman," which is available on CBS' website, mashes up video from the beloved children's classic with risqué audio from CBS' How I Met Your Mother and Two and a Half Men. Goldberg described the attempt at viral hitmaking by the erstwhile Tiffany Network as "pathetic:"
From The O'Reilly Factor:
Goldberg: First of all, let's not forget that this was the Tiffany Network that is putting Frosty the Snowman and showing his porn collection and talking about how when you have a sex dream, it's a good thing, because you 'can't get her knocked up.' That's also in the little cartoon.

O'Reilly: And that's dialogue from this sitcom that they lifted from the sitcom. Actual dialogue from the sitcom, and they put it in Frosty's mouth.

Goldberg: I'm not against this on moral grounds: I don't care about that to be perfectly honest. I'm against it because I think it's pathetic. When a corporation tries to be 'cool' and 'hip' and says 'look at us, look at how cool we are, we're going to take Frosty the Snowman and have him talk about his porn collection,' this is like some old guy going to a club, wearing tight jeans and having his baseball cap on backwards and telling some 20-year-old, 'let's get jiggy.'
Alternatively, in the words of Time's James Poniewozik, "It's like watching grandpa get a fauxhawk and try to date college girls." Though Goldberg's "let's get jiggy" was a nice touch.
Have a tip we should know? tips@mediaite.com